The Best EDM Songs Of 2015
21 December 2015, 15:28 | Updated: 29 March 2017, 11:48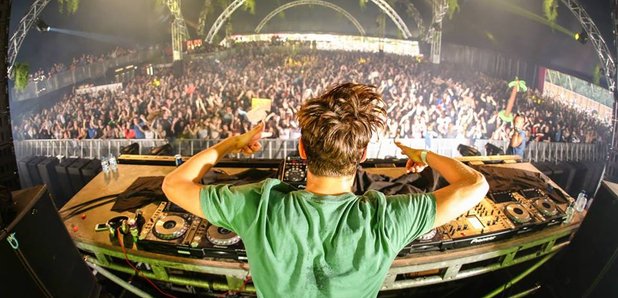 With huge new songs, albums and remixes from Martin Garrix, Deorro, Galantis and more, it's safe to say 2015 has been huge.
It's time to round up the very best that EDM has had to offer 2015.
Martin Garrix is having an even bigger 2015 than 2014, teaming up with the likes of Usher and Tiesto to deliver some huge new tunes, while Deorro and Chris Brown's 'Five More Hours' and Galantis' 'Runaway' will have you feeling festival-ready.
Other EDM bangers come from Nero, Tiesto and Axwell /\ Ingrosso - hit play on the best that 2015's treated us to beow.
Galantis - 'Runaway'
Swedish electronic duo Galantis actually released 'Runaway (U & I) last October, but it didn't gain prominence until this year. It's now found chart success in Australia, the UK and much of Europe.
Martin Garrix Feat. Usher - 'Don't Look Down'
Martin Garrix's EDM sound paired with Usher's hypnotising r&b touch was always going to be a big win.
Axwell /\ Ingrosso - 'Something New'
Since it's release back in February 2015 this song has just grown bigger and bigger - and it's going to carry you through the summer.
Shapov - 'Disco Tufli'
'Disco Tufl' is half of Shapov's debut 2 track EP - check out the other half titled, 'Party People' on YouTube.
A-Trak - 'Push (Patrick Hagenaar Remix)'
Your festival soundtrack starts right here.
Fox Stevenson - 'Sodapop (Sweets)'
Fox Stevenson - real name Stanley Stevenson Byrne - is getting people talking with this big new track.
Nero - 'The Thrill'
Taken from their 'BETWEEN II WORLDS' album (drops August 2015), the Nero girls have done it again.
Deorro Feat. Chris Brown - 'Five More Hours'
Whenever Chris Brown lends his vocals to an EDM track it just works - his latest hook up with Deorro is no different. Check out the video that sees Chris Brown take a party bus to Coachella.
Pep & Rash - 'Rumors'
Pep & Rash's 'Rumours' below up in early-mid 2015 and it's not going anywhere.
Martin Solveig x GTA - 'Intoxicated'
Rihanna - 'BBHMM (Michael Woods Remix)'
Rihanna's 'B*tch Better Have My Money' gets a dance-infused remix that makes it club-ready.
Sam Feldt - 'Show Me Love (Quintino Rmeix)'
Take a Robin S classic and add Sam Felt's magical touch and what do you get? A summer-ready remix.
Martin Garrix & Tiesto - 'The Only Way Is Up'
Dutch superproducer duo and good friends Tiesto and Martin Garrix team up to deliver an EDM track that'll have you wanting to go out out.
Skrillex & Diplo Feat. Justin Bieber - 'Where R Ü Now'
EDM superproducers Skrillex and Diplo came together to form supergroup Jack Ü and surprised many by collaborating with Justin Bieber. But this is a smash!
Barber & James Trystan Feat. Marissa - 'Falling Free'
South London DJ and producer James Trystan has linked up with Barber and Marissa for an energetic EDM anthem which is out now via Seamless Recordings.