The Best 90's R&B Songs
25 May 2018, 16:26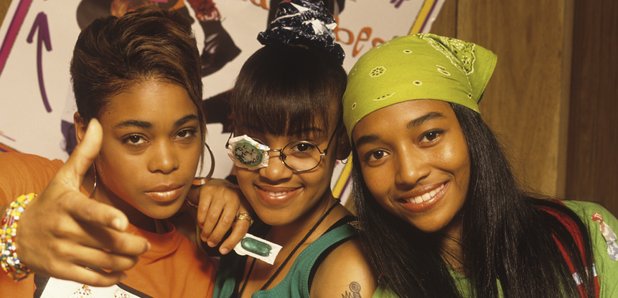 Get ready for some throw back songs to a golden era of honey-smooth vocals, epic slow jams and infectious grooves.
In the 90's, R&B reigned supreme as one of the most innovative and popular genres of the era - and what an era it was.
New artists like Usher, Aaliyah and TLC were catapulted into superstardom with timeless hits that sound just as good today as they did on their debut.
From upbeat floor-fillers to tender ballads, pre-noughties R&B delivered an eclectic mix of sounds and vibes that are certified timeless.
Listen to some of the best 90s R&B songs below.
Aaliyah - 'Are You That Somebody?'
Aayliah and Timbaland form an unstoppable duo on this classic hit from the 1993 soundtrack to 'Dr. Dootlitte'. Her smooth vocals teamed with Timb's slick production make for a slice of R&B royalty.
Usher - 'You Make Me Wanna...'
Produced by the one and only Jermaine Dupri, this smooth jam from Usher's early days sees the R&B crooner come face to face with a crossroads in his relationship.
Jennifer Lopez - 'If You Had My Love'
Bronx girl Jenny had us all feeling like hopping on the 6 and sending a word of warning to any potential lovers with her debut single. No wonder Drizzy sampled it in his 2017 song 'Teenage Fever'.
TLC - 'No Scrubs'
"A scrub is a guy who thinks he's fly" - shout out to TLC for setting the bar, and our standards, high with this iconic female anthem. No 90's playlist is complete without it.
Sade - 'No Ordinary Love'
After cementing herself as a certified R&B icon in the 1980's, Sade transitioned into the following decade with ease. Her ethereal voice is enough to take you to another world.
Ginuwine - 'Pony'
Any true R&B lover will identify this sensual song immediately, thanks to Timbaland's knack for creating an instantly recognisable beat. 'Pony' is an unapologetic eyebrow-raiser that rightfully launched Ginuwine into the spotlight.
Destiny's Child - 'Say My Name'
Taken from their 1999 sophomore album 'The Writing's on the Wall', 'Say My Name' remains one of DC's most popular songs. A true R&B phenomenon, the song would go on to pick up two Grammy Awards.
The Fugees - 'Killing Me Softly With His Song'
Lauryn, Wyclef and Pras truly flip-turned Roberta Flack's original on its head, transforming a tender, heart-wrenching song into a chart-topping Hip-Hop jam.
En Vogue - 'My Lovin'
If there was every an era where girl groups really shone, it was the 90's. Funky female quartet En Vogue smashed it with this infectious pop-funk hybrid, which remains a classic.
Erykah Badu - 'On & On'
As R&B blossomed in 90's, the hypnotic voice of Erykah Badu captured our ears and souls in equal measure. 'On & On' is arguably one of the quirky singer's most iconic songs.
Whitney Houston Feat. Faith Evans & Kelly Price - 'Heartbreak Hotel'
This sparkly, mid-tempo R&B ballad sees Evans and Price serve as shoulders to cry on for a heartbroken Whitney. Expect vocal acrobatics, stunning melodies and a whole lot of soul.
DJ Jazzy Jeff & The Fresh Prince - 'Summertime'
Ready to get transported to the streets of Philly in the glowing summertime of 1991? Jeff and Will are serving those feel-good, sun-soaked vibes all year round with their timeless banger.
Donell Jones - 'U Know What's Up'
Soaring to the top of the charts in the final year of the decade, 'U Know What's Up' is steady R&B hitter than no throwback playlist would be complete without.
Brownstone - 'If You Love Me'
Stacked harmonies, irresistible vocals and a consistent rhythm that you can't help but bob your head to - female powerhouses Brownstone are the sound of 90's R&B.
Mary Mary - 'Shackles (Praise You)'
This gospel-R&B crossover is the definition of timeless. The vocal process of Mary Mary is undeniable and, when combined with the uplifting message at the core of their genre, form an unmatched duo.
Brandy & Monica - 'The Boy Is Mine'
When it comes to monster R&B smash hits, 'The Boy Is Mine' is a clear front-runner for all-time bests. A Rodney "Darkchild" Jenkins creation, this love triangle scored Brandy and Monica a place in history.
Toni Braxton - 'You're Making Me High'
The lead single from her 1996 album 'Secrets', this tune scored Toni her first number one and catapulted the seductive R&B songstress into superstardom.
Boyz II Men - 'End Of the Road'
Where the 90's played host to an impressive number of powerful female groups, no list of 90's R&B songs would be complete without Boyz II Men. Belt this loud.
Babyface - 'When Can I See You'
Time to slow things down for the true definition of an R&B ballad. Musical mastermind Babyface utilised acoustic guitar in a way that was uncommon in the genre - and it worked beautifully.
Mariah Carey - 'Fantasy'
Mariah Carey takes the crown of the 'It' girl of 90's Pop-R&B. With her twinkly whistle tones, skyscraper vocals and irritable charm, she was destined to top the charts with this one.
Lauryn Hill - 'Ex Factor'
Taken from the masterpiece that is 'The Miseducation of Lauryn Hill', the R&B queen managed to convey an everlasting message of heartbreak within a five and a half minute song. Perfection.
D'Angelo - 'Brown Sugar'
Honey-smooth crooner D'Angelo took us away with the delectable title track of his debut album. There's no question that this unstoppable groove ticks all the boxes.
Mary J. Blige - 'Real Love'
A true member of R&B royalty, Mary J seriously delivered with this uptempo survival anthem. Created around the iconic drum loop of Audio Two's 'Top Billin', this is a 90's classic.