The 5 Biggest Songs To Drop This Week
2 March 2018, 14:35 | Updated: 2 March 2018, 14:41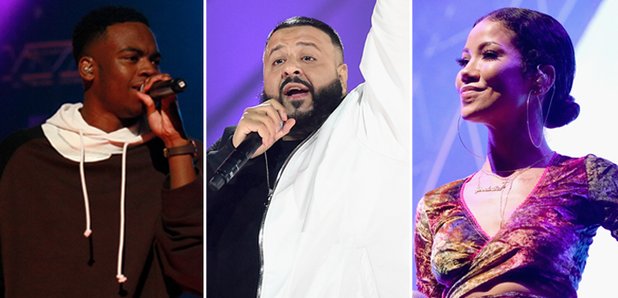 Listen to the freshest new music from DJ Khaled, Not3s, Jhené Aiko and more.
This week, DJ Khaled announced the upcoming release of his eleventh album 'Father Of Asahd' before unleashing its first single, 'Top Off', which features Beyoncé, Jay Z and Future.
Albums-wise, Canadian crooner Tory Lanez delivers with his star-studded sophomore album 'Memories Don't Die'. Also, UK native Sneakbo has dropped his highly anticipated debut album 'Brixton' which hosts appearances from Giggs, Yungen, Not3es and more.
Speaking of Not3s, the London MC has linked up Maleek Berry for a catchy new single, while Jhené Aiko has recorded a spellbinding cover of Tupac's 'Keep Ya Head Up'.
Check out the biggest songs to drop this week below.
DJ Khaled Feat. Jay Z, Beyoncé & Future - 'Top Off'
In true Khaled style, the super producer returns with another star-studded collaboration featuring Hip-Hop's elite. 'Top Off' is an infectious hit which sees Jay, Future and Bey (yes, she has bars) spit over a trap-infused instrumental.
Not3s Feat. Maleek Berry - 'Sit Back Down'
Not3s returns with his first solo single of 2018, teaming up with the unstoppable Maleek Berry for 'Sit Back Down', a mellow bop which hears the Hackney native address his haters.
Sneakbo - 'Brixton' (Album)
Brixton native Sneakbo crashes March with a stellar debut album, aptly named in honour of his home turf. The well-respected MC is in good company on the 19-track record, which features appearances Giggs, Yungen and Capital XTRA's very own Afro B.
Jhené Aiko - 'Keep Ya Head Up'
Jhené Aiko has delivered a stunning rendition of Tupac's classic track. A self-confessed Pac fan, the R&B princess lends her feathery vocals to this soulful, stripped back solo.
Tory Lanez - 'Memories Don't Die' (Album)
Hosting appearances from 50 Cent, Nav, Future, Fabolous and Wiz Khalifa, 'Memories Don't Die' sees Tory give a personal, introspective narration of his rise to fame - including a mention of his past beef with fellow Canadian Drake.