The 5 Biggest Songs To Drop This Week
23 February 2018, 14:44 | Updated: 23 February 2018, 15:24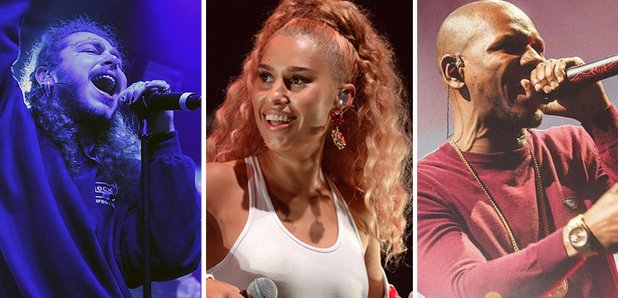 Listen to the best new songs to drop this week, featuring Raye, Post Malone, Giggs and more.
This week, South London songstress Raye has teamed up with her girls Mabel and Stefflon Don to form the ultimate female supergroup. Their new song 'Cigarette' is a catchy, party-ready bop and it's a sure-fire hit.
Post Malone returns with a Ty Dolla $ign link-up for the mellow trap-infused 'Psycho', while Giggs delivers some cold bars on his new collaboration with Da Beatfreakz.
Hardy Caprio, B Young, 23 Unofficial and Chip are also in the mix - check out the biggest songs to drop this week below.
Raye Feat. Mabel and Stefflon Don - 'Cigarette'
As if one female trailblazer wasn't enough, Raye has enlisted the help of her fellow British starlets Mabel and Stefflon Don for this infectious anthemic bop.
Post Malone Feat. Ty Dolla $ign - 'Psycho'
Fresh from his joint tour announcement with his 'rockstar' collaborator 21 Savage, Post Malone has formed another epic alliance - this time with Ty Dolls $ign - for his new song 'Psycho'.
Har
dy Caprio - 'Rapper'
Hardy Caprio smashes into 2018 with his first release of the year, 'Rapper'. Considering the success of 'Unsigned' and 'Super Soaker', it looks like this banger is going to follow suit.
Da Beatfreakz x Giggs - 'Swingin In Da Whip'
What a link-up! Da Beatfreakz are back with a huge collaboration alongside UK heavyweight Giggs. The production team serve a powerful beat while the South London rapper narrates.
B Young, 23 Unofficial and Chip - 'Jumanji' (Remix)
B Young's already monster hit 'Jumanji' has been given a fresh new spin by 23 and Chip - the British trio sound slick on the sultry remix.