18 New Songs, Albums And Remixes To Love In June 2016
1 June 2016, 17:15 | Updated: 29 March 2017, 11:43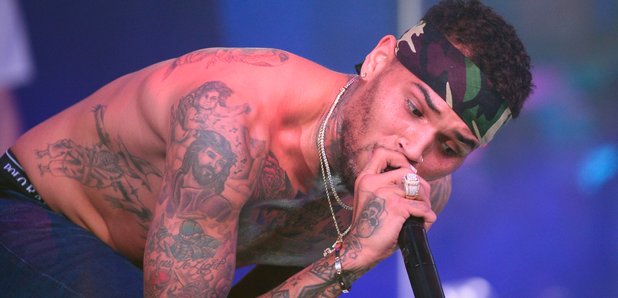 Listen to the latest new music from Chris Brown, Jay Z, Fifth Harmony and more of your favourite artists.
Summer's basically here and we've rounded up the hottest new tracks that will go head-to-head to claim the 'song of the summer' crown (or has Drake's 'One Dance' already won that title?)
Featuring new songs from Chris Brown, Fifth harmony, Jay Z and Ariana Grande, to name a few, stream 18 new songs you should know about this month below.
Fat Joe, Remy Ma, Jay Z - 'All The Way Up (Remix)'
Craig David - 'One More Time'
Craig David is on a roll with his comeback bangers and he's managed to crack it 'One More Time' on his latest single. The Garage smash comes complete with an official music video that sees Craig throw one of his infamous TS5 parties.
Drake and PartyNextDoor - 'Come See Me (Erykah Badu Remix)'
Like us, you probably didn't need another reason to love Drake and ParyNextDoor's latest collab 'Come See Me', but if you've listened to it back-to-back so many times you're in need of a refresh, thankfully Erykah Badu's come through on the remix.
WSTRN Feat. Krept & Konan, Yungen and Avelino - 'Come Down (Remix)'
West London trio WSTRN recruited fellow UK rapper's Krept & Konan, Yungen and Avelino for a twist on their 'In 2' follow-up track.
Chance The Rapper - 'Coloring Book'
Chance The Rapper's latest mixtape (also commonly known as Chance 3) stands him in good stead as one of the scene's most talented artists right now. Stand-out songs include 'All Night', 'Angels' and the mixtape's into 'Music Is All We Got'.
Chris Brown - 'Grass Ain't Greener'
Breezy reminisces on old relationships on his brand new track 'Grass Ain't Greener', which is rumoured to be taken from his forthcoming fourth studio album 'Heartbreak On A Full Moon'.
Alicia Keys - 'In Common'
You know it's a good month for music when Alicia Keys drops her first single in a staggering FOUR YEARS. The R&B icon is back with a smooth new song.
Chris Brown Feat. Section Boyz & Quavo - 'Whippin'
Chris Brown has teamed-up with London's very own Section Boyz on new song 'Whippin' - hit play to hear Breezy attempt a British Accent!
Skepta - 'Konnichiwa'
After months of teasing, Skepta finally dropped his highly anticipated new album last month and we're still listening on repeat, getting familiar to the 12-song Grime project.
YG Feat. Drake and Kamaiyah - 'Why You Always Hatin?'
YG has reunited with Drake on his new West Coast anthem 'Why You Always Hatin?' The pair, who also linked up on 2014's 'Who Do You Love?', have returned for a bass-heavy follow-up.
Lethal Bizzle - 'Wobble'
There's few things we can say about Lethal Bizzle's new song and video, other than to hit play and discover it for yourself. (Warning: You might not want to watch it on public transport.)
Snoop Dogg - 'Return Of The Doggy Style Records Mixtape'
Snoop Dogg has revived Doggy Style Records 20 years on with the release of his new mixtape 'The Return Of Doggy Style Records.'
Wiz Khalifa – 'Pull Up'
Wiz Khalifa recruits Lil Uzi Vert for the hook on hot new track 'Pull Up' - could this feature on his upcoming project with Juicy J?
Tyga – 'Cash Money'
Just days after dropping the audio, Tyga shares the visuals for his new song 'Cash Money', which pays homage to the label's good times.
Ariana Grande - 'Dangerous Woman'
May saw Ariana Grande release her third studio album, hosting songs including 'Dangerous Woman,' 'Be Alright' and new track 'Into You.'
Donnie and The Trumpet and Chance The Rapper - 'The First Time'
As if Chance hadn't blessed us with enough new music, he's once again teamed with Donnie And The Trumpet to share new song 'The First Time'. Hit play and hear their signature style in your ears.
ScHoolboy Q Feat. Kanye West - 'THat Part'
Back in 2010 ScHoolboy Q tweeted; "NO MATTER wHat n***aHz say i ratHer work wit kanye befo any ov u n***aHz lol seriously lol". This month his wish came true.
Fifth Harmony - '7/27'
Fifth Harmony's sophomore album is available to stream online and it features some huge guests including Fetty Wap, Missy Elliott and Ty Dolla $ign.