Young Thug Is Being Slammed After Posting Shocking "Rape Joke" On Instagram
13 December 2018, 16:28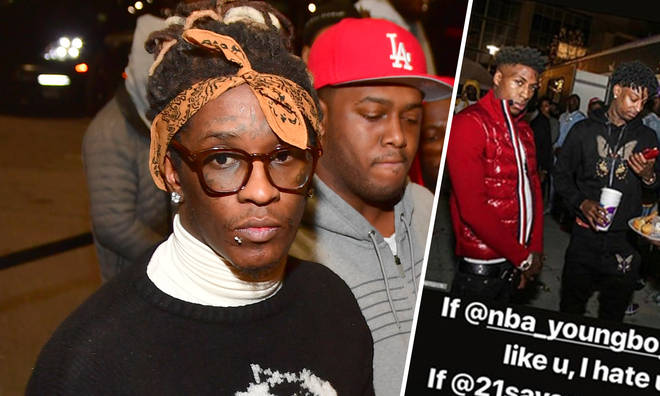 Young Thug has come under fire for appearing to make a "disgusting" joke about rape, and is facing severe backlash on social media. The rapper's Instagram post also featured 21 Savage and NBA YoungBoy, who both co-signed it.
Young Thug has left a number of fans "disgusted" after posting a joke about rape on Instagram.
The 27-year-old came uploaded an image of himself alongside fellow rappers 21 Savage and NBA YoungBoy with the caption, "If @nba_youngboy don't like u, I hate u If @21savage say f*ck u, we goin rape u."
Both 21 Savage and NBA YoungBoy went on to repost the image and its accompanying caption, with NBA YoungBoy adding his own caption reading "OnGOD B*TCH."
Soon after Thugger's post went live, people took to Twitter in disgust and discussed why it wasn't being talked about more.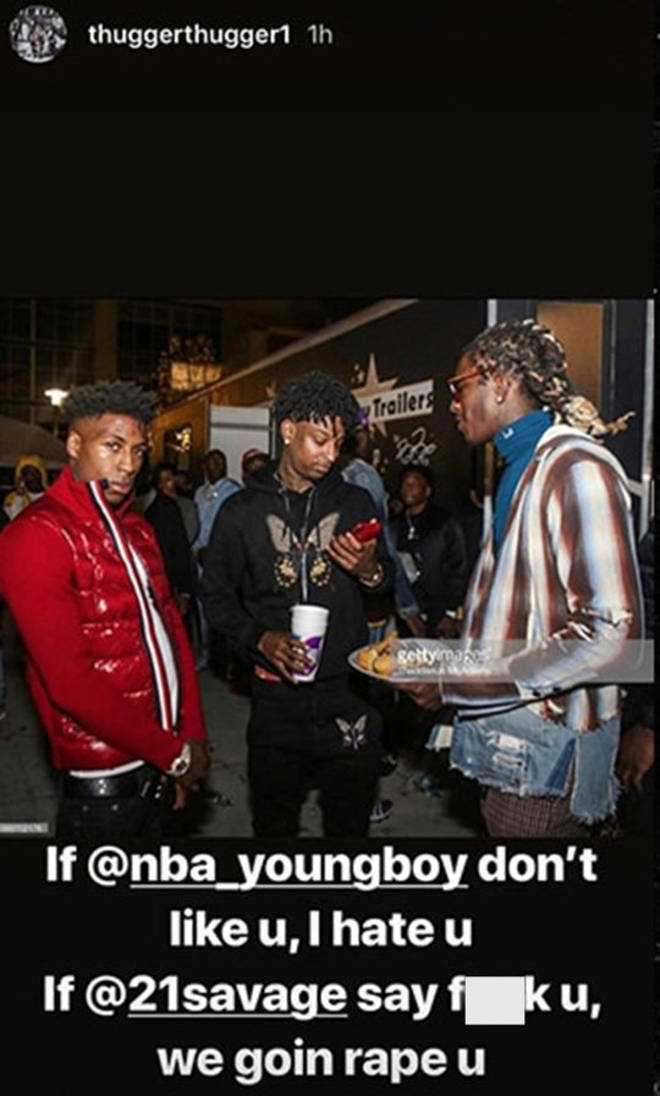 "All ya favourite rappers problematic. can't believe my eyes @youngthug you just lost a lifelong fan. disgusting," wrote one former fan.
"Young thug effortlessly made a rape joke and basketball boy and knife man approved of it. I'm really annoyed," while another questioned, "So no one has a problem with young thug saying he'll rape someone...."
Young Thug, real name Jeffery Lamar Williams, is yet to respond to the backlash. This isn't the first time the Atlanta native has left people confused.
Earlier this year, the 'Chanel' rapper shocked fans by appearing to change his name to 'SEX' after previously changing his name to No, My Name Is Jeffery back in 2016.
I wanna see twitter demolish young thug for saying that rape statement .

— Cendea (@_JoJoLisa) December 12, 2018
So we not go address the fact tht Young Thug posted today .. if 21savage said Fck u , they was go rape u ???

...... nobody? Okay🤷🏽‍♀️🤦🏽‍♀️

— . lotus🌺💣. (@flowerbomb_jaz) December 12, 2018
Sooooo y'all aren't gonna talk about Young thug making a rape joke in one of his insta stories? Okay.

— Precious Joi 👸🏾 (@pjoiiii) December 12, 2018
Im sorry but... yall bouta let Young Thug joke about rape? Cmon son

— Uma 😈 (@DarkoNast) December 12, 2018