Winter Hill Fires - Latest
30 June 2018, 18:31 | Updated: 30 June 2018, 18:35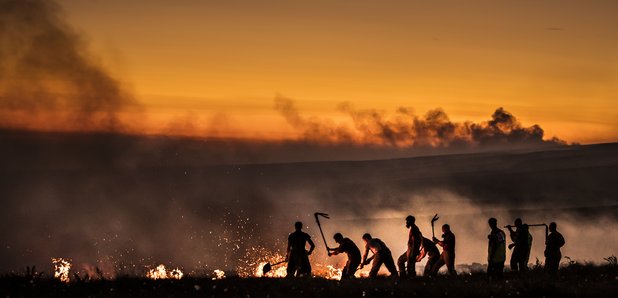 Here's the latest update on the fires approaching the Winter Hill Radio and TV transmitters in the North West.
We're so grateful to the members of the emergency services who are working hard to try and put out the fires approaching the Winter Hill Radio and TV transmitters in the North West.
Unfortunately, this may lead to interruptions to our broadcasts in the region.
Greater Manchester Police have declared the fire a "major incident", and the public have been warned to stay away from the area.
The police and fire service have launched a joint investigation into the cause of the blaze on Winter Hill in Lancashire, which emergency crews have been battling to stop spreading since Thursday.
A 22-year-old from Bolton has been held on suspicion of arson with intent to endanger life.
The fire started around 30 miles (50km) from a large blaze on Saddleworth Moor, which has been raging since Sunday.
Flames covering seven square miles on Saddleworth have covered the Greater Manchester region in smoke and ash.
Soldiers have joined firefighters in trying to contain the fire.
Resources have been further stretched with another fire at Higher Swineshaw, near Stalybridge.
The fires have been exacerbated by extremely hot weather, making them more difficult to put out.
Tony Hunter, assistant chief fire officer of Greater Manchester Fire and Rescue Service, said there had been a "significant" improvements in tackling the blaze on Saddleworth Moor.
But Mr Hunter warned that while the fire was now "contained and under control", "things can develop" and if the wind blows the flames back on to the moors it will act as a "fuel source" for the fire.
Mr Hunter said a "significant downpour of rain" would help - but none is forecast for days as the heatwave continues into the weekend.
It has been warned the fires could take weeks to put out.
News reporting (c) Sky News 2018