Will Smith & DJ Jazzy Jeff Debut New Song 'Get Lit' On Stage At Livewire Festival
29 August 2017, 10:36 | Updated: 29 August 2017, 11:58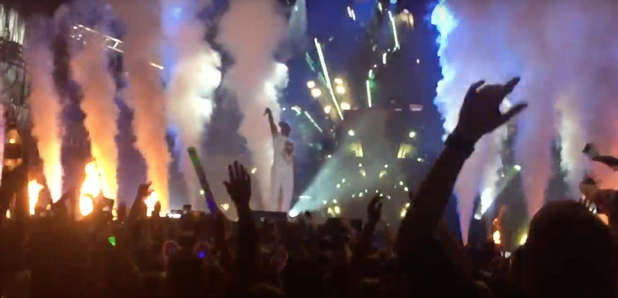 Smith later explained the meaning behind the EDM-influenced.
Will Smith and DJ Jazzy Jeff made their long-awaited UK festival debut this weekend to premiere their new track 'Get Lit'.
Taking to the stage at Blackpool's Livewire Festival, the iconic duo lit up the Tower Headland Arena with their new EDM track.
'Get Lit' marks Smith and Jeff's first song together since 1998's 'Lovely Daze', which featured on the DJ Jazzy Jeff & The Fresh Prince 'Greatest Hits' record.
Watch the epic performance below.
Taking a moment to address the crowd, Smith explained how the new song was created as a response to the recent "chaos and confusion" going on in the world.
"I wanted to make a song that allowed people to let their light shine," he added.
"We all have an inner light and sometimes this world… people can say stuff to you and tell you you can't do and you know you can but when they tell you that it kinda knocks you down a bit right?"
"So I wanted to make a record that reminded each and every one of y'all to let your light shine."
As well as their new song, the duo also performed a slew of their greatest hits including 'Gettin' Jiggy Wit' It', 'Summertime', 'Men In Black', 'Miami', 'Girls Ain't Nothing But Trouble', and 'Parents Don't Understand'.
The pair also headlined MTV's Summerblast festival in Croatia over the weekend, marking their first live performance in 20 years.
Prior to the hotly-anticipated gig, Smith revealed the surprising job he would have taken if a career in entertainment hadn't worked out.