Children Are Doing "The Hot Water Challenge" And The Results Are Absolutely Terrifying
14 August 2017, 15:11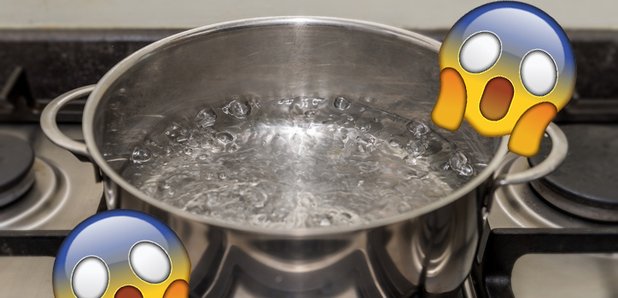 One girl has died and another left severely injured following the dangerous craze.
In perhaps one of the most disturbing trends of 2017, children are now participating in what is known as "The Hot Water Challenge".
The shockingly dangerous craze encourages young people to pour boiling hot water over themselves and each other, often ending with horrifying consequences.
Believed to have started around two years ago, the viral 'challenge' has been brought to light after an eight-year-old girl was killed as a result of one of its 'spin-offs' last month.
Ki'ari Pope from Florida severely burned her throat and died after drinking boiling water through a straw following a dare from her cousin.
The pair had apparently watched several YouTube videos of people performing the challenge before the incident.
In another terrifying variation of the craze, participants are known to film themselves pouring scalding hot water over an unsuspecting victim.
Jamoneisha Merritt, an 11-year-old from New York, received severe second-degree burns to her face, neck and chest after a girl threw boiling water over her during a sleepover.
The 12-year-old responsible has been charged with felony assault. Merritt is currently in a receiving treatment at Harlem Hospital for her injuries.
Appearing to originate in America, the craze does not appear to have any sort of following in the UK.
who in their right mind would think it's okay to do a hot water challenge??? only an idiot of the highest order would do this https://t.co/qAG3fDWlJu

— ife the child of God (@HXRLEEN) August 11, 2017
What the fk is going on!?! The hot water challenge and shit like this. what's wrong with people!

— Nina (@Beaverhausen_A) August 10, 2017
The hot water challenge is one of the dumbest fucking things I have ever heard of in my life! pic.twitter.com/dQ1RDmUVu1

— TBS (@thetravyben) August 9, 2017
Why tf would there be a hot water challenge?? It's HOT water for Christ sake!! https://t.co/OXQereE1w4

— StrawBerryShakeMan (@ItsFijay) August 14, 2017
The NHS says: "Hot liquids can cause life-threatening burn injuries."
"When tap water reaches 60C – water boils at 100C – it can cause a third degree (full thickness) burn in just five seconds."
In regards to treating burns, the NHS recommends treating burns with lukewarm running water for 20 minutes.
The victim should be taken to hospital if the burns are bigger than the affected person's hand, cause white or charred skin or cause blisters.