Kylie Jenner Reveals Daughter Stormi "Looks Just Like" Her As A Baby
22 February 2018, 11:36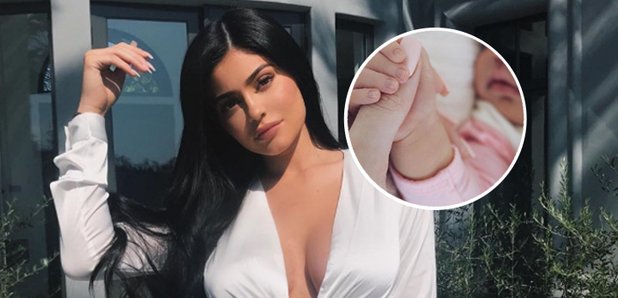 The reality TV star gave birth on February 1st.
It's been less than a month since Kylie Jenner gave birth to her daughter, Stormi Webster, but the star is already seeing similarities between herself and her newborn.
After a fan tweeted Kylie asking how Stormi - her first child with rapper Travis Scott - is doing, the beauty entrepreneur don't hesitate to reply.
"She looks just like me when I was a baby," said Kylie. She confirmed Stormi is "good" and before revealing she is "still staring" at her baby all day.
How's Stormi?

— Kylie Jenner Stan (@weIovekylie) 21 February 2018
she's good still staring at her all day. she looks just like me when i was a baby https://t.co/fEFsSeNO6Z

— Kylie Jenner (@KylieJenner) 21 February 2018
Kylie shared a photo of Stormi with her Instagram followers shortly after the birth, where only her daughter's lips, nose and cheeks can be seen.
The picture - which is the only glimpse the public have had of the baby so far - has become the most-liked Instagram post of all time.
Kylie, who is rumoured to be the wealthiest sibling of the Kardashian-Jenner clan, has previously shared photos of herself as a baby on social media.
In celebration of Stormi's birth, Caitlyn Jenner also shared a throwback photo of Kylie in an emotional post.
Meanwhile, Kylie was recently spotted at a friend's baby shower in one of her first public outings following the birth.