Watch Footage Of Kim Kardashian's Robbers Fleeing After Paris Heist
21 October 2016, 11:18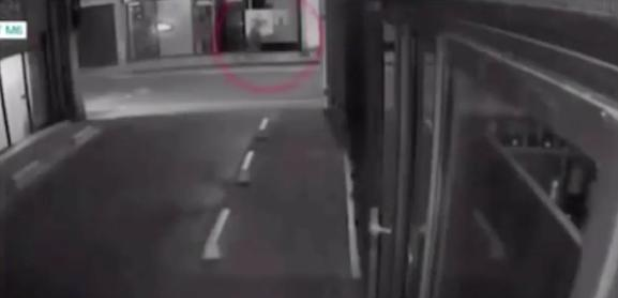 Robbers seen approaching and making off with millions in jewellery.
Footage appearing to show Kim Kardashian's Paris robbers fleeing the crime scene has surfaced online.
The grainy, black and white street-camera video released by the French media shows the alleged group arriving at and departing Kim's apartment on 3rd October.
Three of the alleged robbers are seen on bikes, with the other two walking briskly on foot towards the reality star's apartment at 2:19AM.
Watch the video below:
The robbers aren't seen leaving the apartment until about 45 minutes later, which contradicts previous claims that they spent just a few minutes inside the building.
The images are extremely blurry and are from at least 40 feet away, so French police are still yet to uncover who was responsible for the heist.
Kim was tied up and robbed at gunpoint during her visit to the French capital at the beginning of the month, and was reportedly robbed of almost £10m in jewellery at her luxury residence.
Yeezy's wife was attending Paris Fashion Week, along with her sisters Kourtney and Kendall, husband Kanye and the rest of her team.
In related news, Kourtney recently broke her silence on the robbery topic in an interview for an Australian news channel.
The interview got off to a very frosty - and extremely awkward - start though, as the eldest Kardashian sister appeared to completely blank presenter David Campbell.