Watch James Corden's Hilarious 'Drop The Mic' Rap Battle With Kevin Hart
17 June 2016, 13:35 | Updated: 17 June 2016, 15:47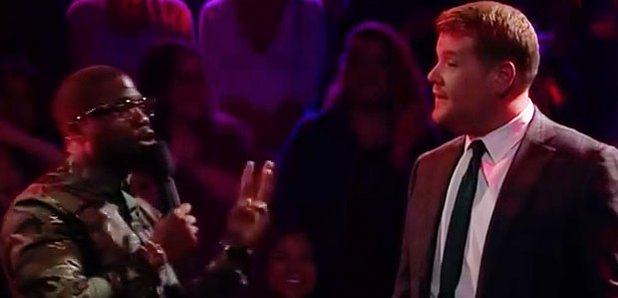 This is amazing.
James Corden has battle rapped Kevin Hart in the latest entertaining skit on his 'Late Late Show' in the US.
The chat show host took on Hart in a new segment called 'Drop The Mic' and tried to diss the comedian about his height.
"Why would you step to me, you know I can destroy/ you might 'Think Like A Man' but you're built like a boy," he rapped over a beatbox.
In return, Kevin Hart hit back with a slick response.
"James Corden thinks I look like a kid/ I might be small but my bank account's big," he clapped back.
Watch the full rap battle below:

This isn't the first time James Corden has tried to rap battle the guests on his show, previously taking on celebrities including actress Anne Hathaway.
Corden's new skit 'Drop The Mic' accompanies his successful 'Carpool Karaoke' series.
The British chat show host has previously made hilarious viral videos with stars such as Adele , Sia , Jennifer Lopez and more.