WATCH: Kevin Hart & Nick Jonas Face Off In A Hilarious Rap Battle
27 October 2016, 13:07 | Updated: 27 October 2016, 15:16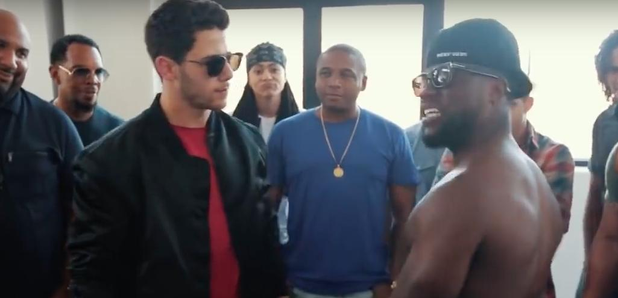 Chocolate Droppa is now battling singers.
Following a number of recent rap battles, Kevin Hart's Chocolate Droppa has taken on a fresh contender – Nick Jonas.
Using his rap alter ego Vanilla Wafer, Jonas drops some lyrics about his Fendi trainers and compares himself to Drake and Droppa to Meek Mill.
While Hart claps back with his own entertaining bars.
Watch the hilarious battle below:
"I'm the Drake of this equation. Meek Mill here, what you doing, why you waiting," raps Nick Jonas before pointing at Hart.
However Droppa, who recently released his new project, 'What Now? The Mixtape', fired back with his own bars.
"You can buy chapstick by the pound, instead of you getting it from the underground/ lips chipped and look white – I can hear thunder sounds."
Chocolate Droppa has previous stated his dislike for other rappers in the industry calling out Drake, Kanye West, Future and more in the past.
Meanwhile, Kevin Hart's new movie 'What Now?' is set for release in the UK in November.
The comedian is also currently putting together a new streaming service dedicated to comedy called the 'Laugh Out Loud Network'.