Watch Barack Obama's Hilarious Response To This 'Mean Tweet' From 'Donald Trump'
25 October 2016, 11:59 | Updated: 25 October 2016, 12:06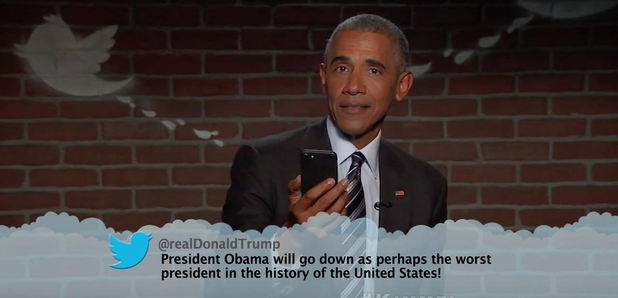 Reason to love Obama #746.
Barack Obama hilariously threw shade at Donald Trump during a special presidential edition of 'Mean Tweets' On Jimmy Kimmel Live.
The US president was making a guest appearance on the show and took part in the regular segment where celebrities read out insulting tweets about themselves.
But one particular response deserved it's own round of applause.
The tweet in question read "President Obama will do down as perhaps the worst president in the history of the United States!"
Watch the video below:
After reading the insulting tweet, Obama simply replied "Really? Well, @realDonaldTrump, at least I will go down as a president..."
He then threw the phone on the floor whilst the audience exploded into laughter.
During Kimmel's interview with Mr Obama, the presenter asked "Do you ever laugh?" when watching Trump on television.
"Most of the time," Obama replied.
This will be Obama's last interview with Kimmel as President of the US - his second and final term ends on 20th January.
Until then, keep trolling, Barack!