Watch Obama's Hilarious Dad Dancing To 'Thriller' At A White House Halloween Party
2 November 2016, 10:23 | Updated: 2 November 2016, 10:41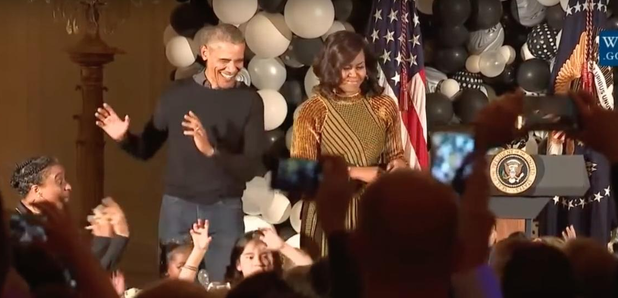 Nice moves, Pres.
President Obama has shown us again why is just like any other embarrassing dad, showing off his moves to Michael Jackson's 'Thriller' at a White House Halloween party.
Obama and his First Lady Michelle gave a speech to groups of local children and military families, before recreating dance moves from Michael Jackson's groundbreaking video.
Yeah, about that 'Coolest President In History' award…
Watch below:
His daughters, Malia and Sasha, didn't feature in the video - the pair were probably cringing in the wings.
Obama and his First Lady Michelle welcomed huge groups of local children and the children of military families into their home this week for their final White House Halloween event.
"You guys all look scary, or cool, or whatever you're trying to be," Obama told the eager trick-or-treaters.
"We hope, parents, that on this day at least, you don't have to pay attention to Michelle and healthy eating."
"Candy for everybody," the first lady said in agreement.
Come through, Obama!