Was Honey G's X Factor Stage Invasion Faked? - WATCH
27 November 2016, 09:10 | Updated: 27 November 2016, 09:30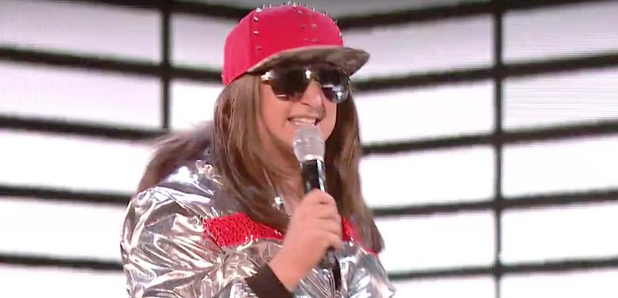 The culprits have been revealed.
Following Honey G's performance of MC Hammer's 'Can't Touch This' on The X Factor, the controversial act appeared to have her stage invaded.
Three men rushed onto the stage, with one grabbing the mic from Honey while the camera cut away to the judges.
Simon Cowell later apologised to the 'rapper', saying: "I'm so sorry about that, are you ok? I thought that was part of the act. I was quite worried."
Watch fan-footage from the audience below:
However one eagle-eyed Twitter user called Elle Angeles rewound the footage and accused the show of faking Honey G's stage invasion.
#XFACTOR #HoneyG FAKE FACTOR THE GUY WHO RAN UP IN STAGE WAS PROMOTED BY THEIR CREW WHAT A FIX LOL #FAKEFACTOR pic.twitter.com/G42CPJMfZk

— † Elle Angeles † (@Elle_Angeles) November 26, 2016
A number of fans also spotted something unnatural.
#XFactor the honey G stage invasion appeared fake if you watch . The invader got prompted when to go on

— Darren Walkinshaw (@Sptharry) November 26, 2016
Ive been told the guy that came on stage to invade Honey G was set up by the show to get people talkin about her how sad and fake #XFactor

— Daniel Halawi (@dan9700) November 26, 2016
The fact that honey g's stage invasion was set up by producers & got caught out is quite funny. A producer literally pushes him on #XFactor

— ㅤjodie loves matt (@AyeUpBieber) November 26, 2016
What's the point in doing a stage invasion for Honey G? She is, in herself, a stage invasion #xfactor

— Sophie Hall (@SophLouiseHall) November 26, 2016
How very obviously staged was that "stage invasion" after @The_Honey_G's performance? @TheXFactor #XFactor #XFactor2016

— Renu Ame Naggayar (@RenuAmeNaggayar) November 26, 2016
However since the incident, YouTubers Trollstation have taken full responsibility for the invasion, with prankster Daniel Jarvis 'revealing' himself on Facebook.
"Making my X factor debut today so excited," he said.
The pranksters then posted some footage from their Twitter account:
X factor invasion pic.twitter.com/uBBNtoLGc9

— TrollStation (@TrollstationYT) November 26, 2016