This Vine Of Chrissy Teigen Ignoring A Woman That Trips Over Her Dress Is Going Viral
18 May 2015, 19:00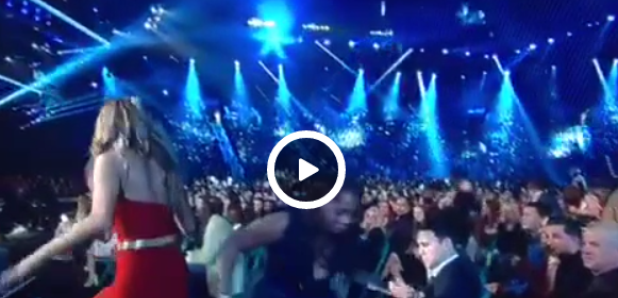 Chrissy Teigen's made known the reason she decided not to help.
Chrissy Teigen did not keep it a secret that she was extremely nervous to be co-hosting the Billboard Music Awards in Las Vegas last night (17th May), tweeting earlier in the week that she was "scared sh*tless."
Whilst the night went as planned for the model on stage, you could have easily missed an awkward moment that happened just off of it. An audience member walked by Chrissy and tripped over her very large, red dress. What did Chrissy do? Carry on with her night, obviously.
Watch the moment below:
The Vine showing the unfortunate moment is fast going viral, with many people on social media criticising John Legend's wife for not turning around and helping the poor woman.
But Chrissy has taken to Twitter to give a hilarious response that is, well, fair enough really.
everyone is saying i am some sort of monster for not stopping and giving her CPR or something -- she is fine, was not a big deal.

— christine teigen (@chrissyteigen) May 18, 2015
she should be out of the hospital by christmas

— christine teigen (@chrissyteigen) May 18, 2015