Usain Bolt Is Opening A Restaurant Chain To Rival Nando's In the UK
22 August 2017, 11:20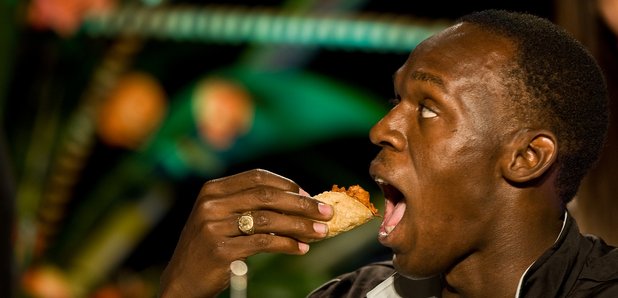 The world's fastest man is bringing classic Jamaican dishes to Britain.
Usain Bolt is set to open 15 Jamaican restaurants in the UK serving classic Jamaican dishes like jerk pork and "burgers à la Usain".
The Olympic champion's gold medal-adorned athletics career came to a disappointing close at the World Champions in London earlier this month, but the sprinter has since set his sights on a new career venture.
Bolt is a partner of Jamaican franchise company, Franjam, who are launching 15 'Tracks & Records' restaurants across the UK within five years.
The Jamaican fast-food chain was launched in Kingston, Jamaica's capital city, back in 2011, and has now signed a deal the SME Group to launch a number of brand new hotspots.
According to The Caterer magazine, the menu will offer authentic Jamaican cuisine including jerk pork and chicken cooked on a coal fire, janga soup, rice and peas, rum barbecue wings, curried mutton, fish sandwiches, and the athlete's speciality - "burgers à la Usain".
On the lucrative deal, Bolt said: "I'm happy to be able to share a taste of the Jamaica that I know and love with the rest of the world through the opening of these restaurants across the UK,"
"London has always been a special place for me and I thank Aly for giving us the opportunity to share our vision and our culture with you all."
Prior to his final race, the sprinter revealed how he planned to celebrate his retirement – by having a Guinness and Nando's with his friend and Manchester United star Paul Pogba.
Despite pulling out of the 4x100m relay mid-race, the 30-year-old remains the world record holder for both the 100m and 200m.