Tyga Called Tupac "Dad" And The Internet's Been Trolling Him Ever Since
7 March 2016, 16:58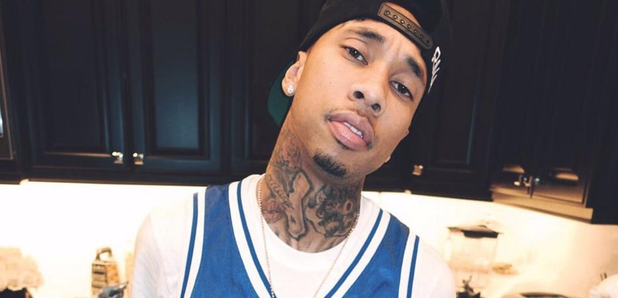 Tyga's Twitter mentions are not having an easy ride right now.
If you thought that Kim Kardashian's latest naked selfie was the most talked about thing on Twitter today you were wrong, because the spotlight is on her younger sister Kylie's boyfriend, Tyga, who posted a tweet calling Tupac "dad."
The tweet included a side-by-side image of Tyga and Tupac both wearing the same jersey.
Dad pic.twitter.com/AKNoQJhPCC

— T-Raww (@Tyga) March 7, 2016
Following the post, Twitter went into full on meltdown, posting some hilarious responses.
Tupac about to drop a diss track from either his grave or wherever he hiding after this https://t.co/vOa3VIjMg0

— Moe Alayan (@MoeAlayan) March 7, 2016
Tupac didn't die for this disrespect https://t.co/Pto7bvF8UL

— Jsasquach (@JSasquach) March 7, 2016
@Tyga pic.twitter.com/tlffuIokr0

— D R A Y (@SuperDuperDray) March 7, 2016
@Tyga pic.twitter.com/QxTs1XHyhV

— Eazy (@_UnorthodoxKid) March 7, 2016
@Tyga pac in his grave like "I'M NOT YOUR DAD!!!" pic.twitter.com/ejhuaNK0eK

— scotty too hotty. (@triple_OGigi) March 7, 2016
@Tyga pic.twitter.com/Ss8kNLEIQR

— Garrett (@_gbaby09) March 7, 2016
Tyga, whose real dad is serving a life sentence in prison, returned to Twitter to explain the post.
Pac taught me a lot more than my own father. Inspired me, Motivated Me, Listened without ever being there.

— T-Raww (@Tyga) March 7, 2016
Wanted to share this with my fans a letter from my real Father who has been serving a life Sentence. pic.twitter.com/2Io5LMAiAS

— T-Raww (@Tyga) March 7, 2016
Never met my dad but this was my reply. pic.twitter.com/L2Nwj7xQOi

— T-Raww (@Tyga) March 7, 2016