Tupac Lookalike Drives Crowd Wild At US Basketball Game
6 March 2014, 09:50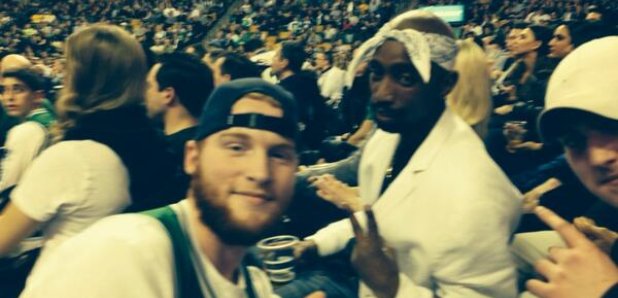 This is uncanny.
One man was all the rage at a Boston basketball game this week, and it wasn't one of the players. An audience member who went along to enjoy the game found himself bombarded with people asking for photos for one reason only - he looked a hell of a lot like Tupac.
Tupac is at the Celtics game pic.twitter.com/cad4savdcZ

— James Teehan (@JTeehan24) March 6, 2014
In pictures taken on other audience members mobile phones, the civilian was seen playing up to the big screen camera, waving his hands in the air and posing for photos.
So yeah, 2Pac was at the #warriors game tonight: pic.twitter.com/tq64wUSbuF (via @CLNS_JaredWeiss)

— Brodie Brazil (@brodiebrazilCSN) March 6, 2014
If his face wasn't enough to warrant the lookalike claim, the fake-Tupac even wore a bandana in the same style as Tupac did back in the day (has anyone else worn one of them since 1994?)
Flynn and Feeney posted with tupac at the celtics #HesAlive pic.twitter.com/TjLUrrGJqL

— Ciaran Murphy (@Ron_Burgundy16) March 6, 2014