Travis Scott SLAMMED After Reportedly Agreeing To Perform At Super Bowl Next Year
21 December 2018, 11:30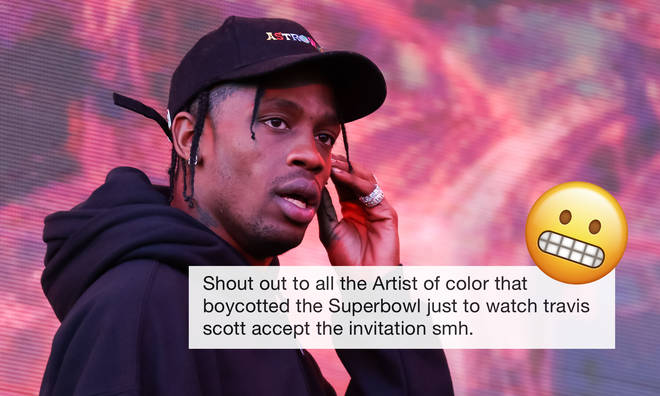 Fans of the 'SICKO MODE' rapper are unimpressed at Scott's alleged decision to perform at next year's Super Bowl Halftime Show alongside Maroon 5 in Atlanta.
Travis Scott has reportedly signed on to perform at the Super Bowl Halftime show next year, but not everyone is happy about it.
The 26-year-old 'SICKO MODE' rapper will join strongly rumoured headliners Maroon 5 on stage at the hotly-anticipated show in Atlanta on 3rd February 2019, according to TMZ.
However, a number of Scott's fellow rappers including Jay-Z and Meek Mill are now urging him to rethink his decision.
Hov, who has been vocal about his criticisms towards the NFL following their treatment of former San Francisco 49ers quarterback Colin Kaepernick, is allegedly trying to persuade him to step down.
Meek Mill took to Twitter to question the rapper's motive. "He don't need that he on fire already!" he wrote. "Stay strong in this sh*t!"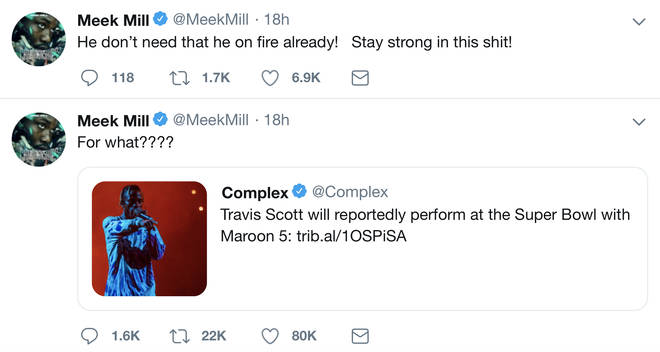 Other rumoured performers at the upcoming show include 'Money' rapstress Cardi B, who collaborated with Maroon 5 on their hit single 'Girls Like You', and Outkast's Big Boi.
Jay-Z allegedly turned down the offer to perform at the annual show, while Rihanna was also said to have declined in an act of support for Kaepernick.
Following the news of Scott's rumoured slot, some fans took to Twitter to express their disappointment in the rapper.
What do you think? Let us know on Twitter.
So Travis Scott is performing at the Superbowl? Where is his Jay Z and Rihanna energy??

— A. ❣️ (@AT_Tunechi) December 20, 2018
What the fuck is wrong with Travis Scott? I remember WE specifically said NO SUPERBOWL PERFORMANCES

— Jigga (@QisPresident) December 20, 2018
I mean we shoulda known Travis scott was a weak link when he started dating kylie, now he finna play in the superbowl halftime show

— Frank_Ocean_nights_pt.2.mp3 (@Sik_oraoraora) December 21, 2018
Ppl seriously thought Travis Scott would boycott performing in the Super Bowl halftime show like other black artists. Y'all must've forgot his baby mama's a Kardashian

— Richard RJ (@rdortch88) December 20, 2018