Travis Scott Responds To Backlash After Being Accused Of Transphobia
6 August 2018, 12:16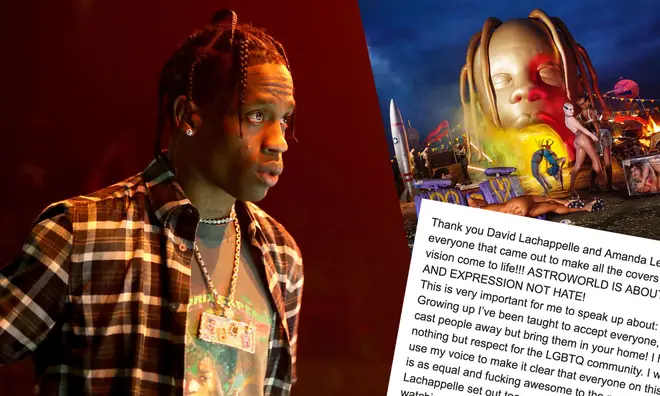 The rapper was criticised after unveiling the artwork for his new album, 'Astroworld'.
Travis Scott has responded to accusations of transphobia after unveiling the artwork for his new album, 'Astroworld'.
The Houston rapper collaborated with acclaimed photographer and designer David LaChapelle on the official cover art for his hotly-anticipated album.
In the original image, transgender model Amanda Lepore was featured on the left-hand side of the cover. However, in the version that Scott posted, Lepore was nowhere to be seen.
Scott was slammed for apparently editing out Lepore, leading to accusations of transphobia. LaChapelle later said Lepore was "taken out because she just upstaged everyone," and that it had "nothing to do" with transphobia.
Soon after, Scott broke his silence on the matter. "Thank you David LaChapelle and Amanda Lepore and everyone that came out to make all the covers and the vision come to life!" he wrote.
"ASTROWORLD IS ABOUT LOVE AND EXPRESSION NOT HATE!" He added that he has "nothing but respect" for the LBGTQ community.
"I want to use my voice to make it clear that everyone on this planet is as equal and f***ing awesome to the next," he said, before agreeing with LaChapelle that Lepore did "upstage everyone."
Read his full statement below.
Released last Friday, 'Astroworld' features the likes of Drake, Frank Ocean, Kid Cudi, Kanye West and The Weeknd - and it's already been turned into a meme.