Travis Scott Leaked Cheating Photo Revealed As FAKE By Youtube Prankster
6 December 2018, 11:40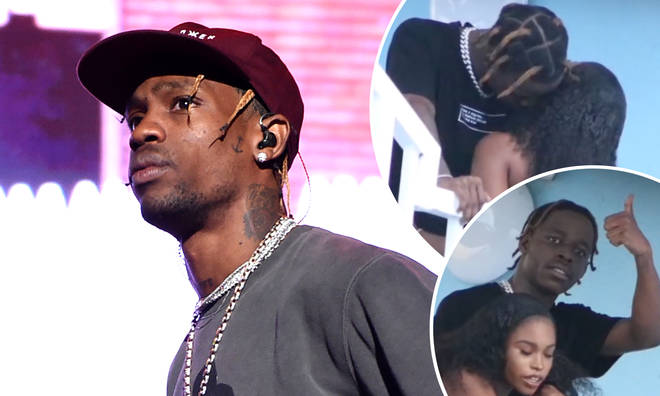 The 'ASTROWORLD' rapper was accused of cheating on his "wifey" Kylie Jenner after alleged images of him kissing another woman leaked online. Scott denied the rumour, which turned out to be the result of an online prank.
Travis Scott and Kylie Jenner were rocked by a cheating scandal this week after alleged images of the 'ASTROWORLD' rapper kissing another women leaked online.
Scott vehemently denied the claims, owing the photos to "trolls" who "always wanna create some fake sh*t to destroy real love." And, as it turns out, he was telling the truth.
Hours after the images caused a stir on social media, YouTuber Christian Adam took credit for setting up the photos. He dressed up as Scott from head-to-toe and even added a fake TMZ watermark to the images.
Adam claims that the prank was an attempt to "fool the Internet", inspired by a recent 'prank' which saw a fake image of Justin Bieber eating a burrito like a piece of corn circulate online.
"(DISCLAIMER: this video was NOT made to intentionally hurt Travis Scott, Kylie Jenner or the entire Kardashian family in ANY way shape or form)," Adam wrote in the description of his video.
The social experiment didn't sit well with the Kardashian-Jenners, who responded to the prank on social media. Travis is yet to comment on the video.
The rapper, who shares an 10-month-old daughter Stormi with Kylie, recently hit the number one spot on the Billboard 200 with his latest album. However, it may be knocked off due to a counting discrepancy.
According to HITS Daily Double, 6ix9ine's album 'DUMMY BOY' actually surpassed 'ASTROWORLD' in terms of sales, meaning that the incarcerated rapper may have the top spot after all.