Top Boy season 4 soundtrack: all the songs played in each episode
18 March 2022, 05:00 | Updated: 23 March 2022, 16:50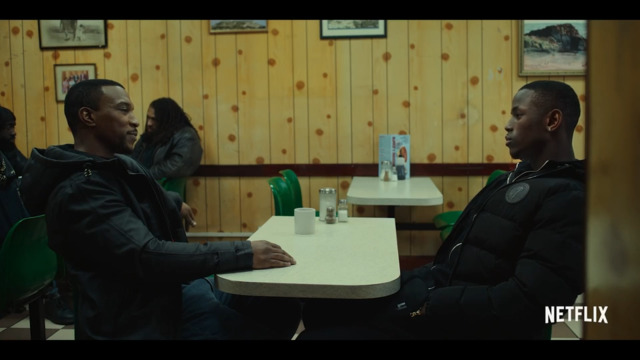 Watch the Top Boy Season 2 trailer
Top Boy is back and the soundtrack is jam-packed with hits from Central Cee to Jorja Smith and more.
Top Boy has returned to our screens for a highly-anticipated new season on Netflix, and the soundtrack is full to the brim of bangers from the hottest artists on the scene.
From Central Cee and Burna Boy to Jorja Smith and Amaarae, music from hitmakers all over the world appear on the show, which has viewers absolutely gripped, as expected.
You can catch Ashley Walters, Kano, Michael Ward and the rest of the cast in Toy Boy on Netflix right now.
Episode 1

Burna Boy - 'Gbona'

Kaydy Cain, Zaramay & The Beatsoundz - 'Como Yo Lo Hago'

Harry Mosco - 'Peaceful Dub'

Burna Boy - Gbona [Official Music Video]

Episode 2

Amaarae - 'Leave Me Alone'

RIMON - 'Nighttime'

Intik - 'Interlude 2'

Amaarae - LEAVE ME ALONE (Official Audio)

Episode 3

Jorja Smith ft. PopCaan - 'Come Over'

Kojey Radical ft. Lex Amor - 'War Outside'

BZ – '2G's'

Jorja Smith - Come Over (feat. Popcaan)

Episode 4

Nass El Ghiwane - 'Mahmouma'

Unknown T, KO & V9 - 'AVEN9ERS'

Freckle fear. Spooks, Goose & Tragic - 'GS X PS Whips and Bikes'

Suspect OTB - 'Nuttn 2 Prove'

Unknown T - AVEN9ERS (Feat. KO & V9)

Episode 5

Central Cee - 'Loading'

Central Cee - Loading [Music Video] | GRM Daily

Episode 6

Pa Salieu feat. Mahalia - 'Energy'

Pa Salieu - Energy feat Mahalia (Official Video)

Episode 7

Deniro5ive & Taifunds - 'Cutie'

She Wyse - 'Mind Language'

FLOHIO - 'With Ease'

FLOHIO - With Ease feat. Kasien (Official Video)

Episode 8

Delroy Wilson - 'Have Some Mercy'

Potter Payper - 'Gangsteritus'