T.I. Reveals His Theory Behind Sammy Sosa's Unrecognisable New Appearance
14 November 2017, 10:38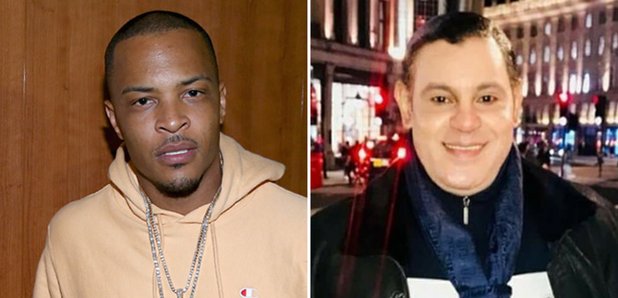 The former baseball star sported a dramatically different look this week.
T.I. has shared his thoughts on former baseball superstar Sammy Sosa's dramatic transformation.
TMZ caught up with the 'Whatever You Like' rapper to ask him what he thought of Sosa's startling new look after the former sportsman stepped out with significantly lighter skin this week.
The 48-year-old first appeared with a lighter complexion in 2009, and people have since questioned whether or not he has been bleaching his skin.
Sosa himself said in the same year that his whiter appearance was the result of a skin-softening cream.
She got a light skinned friend look like Sammy Sosa, Got a Dark skinned friend look like Sammy Sosa pic.twitter.com/FQwGPPc68q

— Acknickulous White (@SirSeriousBlack) 11 November 2017
Every time I see a new Sammy Sosa picture, I get sadder and sadder about what he did to his skin. pic.twitter.com/SfGZDxApYF

— Erick Fernandez (@ErickFernandez) 9 November 2017
However, T.I. believes that Sosa's shocking new look is a result of something else entirely.
"It's self hate," he told TMZ.
The Dominican-born former Chicago Cubs player appeared to be in London this week celebrating his birthday with his wife, Sonia Sosa.
After images of Sosa emerged online, fans took to Twitter to express their shock and dismay at his appearance.
I guess Sammy Sosa thinks it's okay to be white... pic.twitter.com/4AWtaUtwqh

— Stefan Molyneux (@StefanMolyneux) 10 November 2017
Idk what Sammy Sosa is going thru at this point in his life but this picture is terrifying pic.twitter.com/iUXh94W04I

— Brandon williams (@hawaiinshirts) 8 November 2017
Can someone tell Sammy Sosa it's 2017 and there's no need to bleach your skin and be ashamed of who you really are? pic.twitter.com/v99bJCVuZI

— #TheIDKShow live at 1pm Facebook.com/Circa (@JMKTV) 10 November 2017
Sosa is yet to comment on the reports.