T.I. Responds To 21 Savage's Controversial Comments About 'OG Rappers'
22 November 2017, 12:46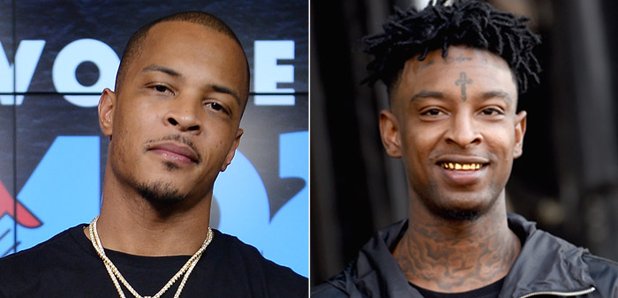 The 'Rockstar' rapper recently defended the new generation of Hip-Hop artists.
T.I. has responded to 21 Savage's comments regarding the criticisms younger generation of rappers are facing.
Earlier this week, the 'rockstar' rapper defended the new wave of Hip-Hop in response to various comments made by long-serving rappers who have passed judgement on today's musicians.
"If the message in the previous generation of rap was so good why did so many of our parents abandon us for crack? Why we still killing each other?" he wrote in a lengthy tweet.
"Don't use us as the scapegoat."
21 November 2017
Savage's comments split options online, as while many people were in agreement with the rapper, others were quick to disparage current rapper's delivery, lyricism, glorification of drugs and 'mumble' style.
However, T.I. was quick to back up Savage and praise the 'Bank Account' rapper for "speaking real truth" in defence of today's contemporary artists.
"The fact of the matter is... There's been good,bad, great,mediocre artists,&otherwise in EVERY generation .... Even ours(2000s) , The Founding era (80s) & the golden era of the 90s," he wrote.
The 'Whatever You Like' rapper pointed out that the current generation of rappers are not the first to create drug-based "user music", and that the youth should not be deterred from making music.
"Can anyone remember a Lil album called "The Chronic"? Or hit Recs like "Sippin on some Sizzurp" he continued, "Regardless of the subject matter...This is THEY TIME."
"Couldn't nobody tell us how to run ours,or make us sound how they thought we should... Live ya life & do ya stuff young'n."
The commentary comes after award-winning record producer Rick Rubin recounted what Eminem thought of the 'mumble rap' trend.
"For him, it's a little bit of a culture shock because there's a new wave of hip-hop that's not really what he's about," said Rubin.
"He was just talking to me about how that felt," he continued, after admitting that Shady's new single 'Walk On Water was inspired by the style, "I could see he was frustrated by it."