Here's How The Internet Reacted To Rob Kardashian Exposing Blac Chyna
6 July 2017, 10:42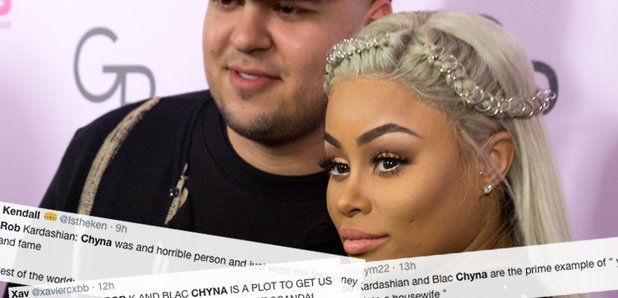 "Don't know what's better, the Rob and Chyna crack or love island..."
Rob Kardashian and Blac Chyna's current beef is sending the Internet into a frenzy.
Yesterday, the younger brother of Kim Kardashian posted a number of naked photos of Chyna on Instagram and accused her of cheating on him while they were dating.
The 'KUWTK' star shocked his followers last night (5th July) as he exposed his ex-girlfriend with the revealing since-deleted snaps and confrontational captions.
Soon enough, Internet users bombarded social media with their mixed feelings on the scandal as it unfolded.
Some claimed that they saw this coming all along.
Rob Kardashian: Chyna was and horrible person and just want me for money and fame

Rest of the world: pic.twitter.com/ZVdnIUpV4U

— Kendall (@Istheken) July 6, 2017
Rob Kardashian and Blac Chyna are the prime example of "you can never turn a hoe into a housewife" pic.twitter.com/kJs3iSfOzZ

— Gregory (@AyoGreegory) July 5, 2017
Others couldn't wait to watch out for Rob's next move after his Instagram account became suspended.
rob kardashian: exposes chyna on instagram and gets his account taken down
rob kardashian coming on twitter: pic.twitter.com/NJJrnH9KAV

— Megan Emily (@xmeganemily) July 5, 2017
Rob Kardashian when his Instagram got suspended and then moved straight on to Twitter to continue exposing Blac Chyna pic.twitter.com/U6m0PFbyMy

— s.i.g (@_sohaan) July 5, 2017
Some people thought the drama may have something to do with Kendall and Kylie.
THIS DRAMA WITH ROB K AND BLAC CHYNA IS A PLOT TO GET US DISTRACTED WITH THE KENDALL AND KYLIE T-SHIRT SCANDAL pic.twitter.com/bVY08thhpn

— Xav (@xaviercxbb) July 5, 2017
Dont let this Rob and Chyna thing confuse yall its ploy by Kris Jenner to sweep the T shirt heat away for Kylie and Kendall #Staywoke

— (@FromBKsMind) July 5, 2017
Or maybe Kris?
Kris right now figuring out how she can turn this Rob and Chyna beef into a 12 season spin-off #RobKardashian pic.twitter.com/x3OThn7oNz

— Big Skittle (@Mousayeenie) July 6, 2017
Kris Jenner when she logs into instagram and Twitter and sees Rob Kardashian exposing Blac Chyna pic.twitter.com/elEggFGtVF

— (@Juanito29434) July 5, 2017
Sometimes, the drama is jus too good to let it pass by...
Me: Lawd Rob and Chyna need to grow up
Also me: pic.twitter.com/7MDyCVj4bV

— ZayDay Irving (@_XoXoChe) July 5, 2017
Me: I'm gonna drink more water and mind my business

*Rob Kardashian and Blac Chyna drama pon di TL*

Also me: pic.twitter.com/bAyYBFaqmH

— Miss James (@simplymcqueen1) July 5, 2017
Me watching all this Blac Chyna and Rob Kardashian drama unfold: pic.twitter.com/y7FINacCyi

— teelovesjesus (@teelovesjesus) July 5, 2017
But sometimes, you need to let it go.
Goodnight to everyone except rob kardashian and blac chyna

— sad boi (@faguettte) July 6, 2017