The Game Brutally Slams News Reporter Over Her 'Disrespectful' Nipsey Hussle Comments
16 April 2019, 10:47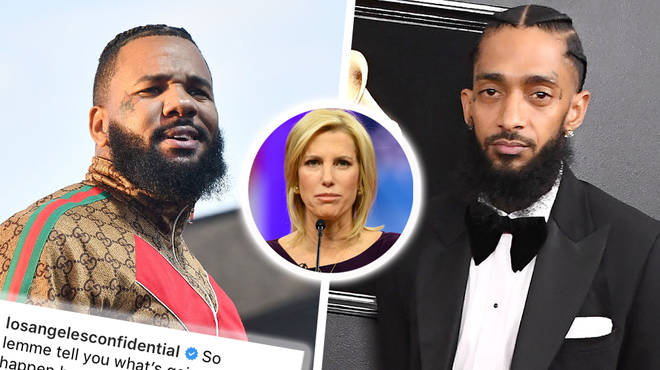 The Game calls for Fox News reporter Laura Ingraham's termination after shockingly 'disrespectful' Nipsey Hussle comments on 'The Ingraham Angle' show
Fox News studios has received a lot of scrutiny over the past couple days from the hip-hop community. The Game has previously expressed opposing views with the hosts of the 'Right-Wing' news channel - Tomi Lauren and now, Laura Ingraham.
However, many supporters of the late rapper Nipsey Hussle and the hip-hop community have "cancelled" Ingraham following some shockingly disrespectful comments from Laura and her guest Raymond Arroyo.
During Laura's show 'The Ingraham Angle', Ingraham and Arroyo laughed at Nipsey Hussle and judged him on a false premise, thinking that he is the artist on the "F*ck Donald Trump" track, (which wasn't even his).
Although the clip of the "FDT" music video came up with a caption 'Artist:YG', the news reporter clearly didn't double check her false information. The pair also belittled the impact of his Nipsey's death.
Nipsey's friend of 12 years, Rapper, The Game came cross 'The Ingraham Angle' and the artist wrote a long paragraph on Instagram tagging Fox News and addressed Ingraham, and any of her supporters.
The Game is clearly infuriated by the level of disrespect, during such a sensitive when Nipsey passed away from being shot and killed, just a few weeks ago.
Just yesterday, The Game took to Instagram to reveal his frustration, posting the clip from Fox News and began writing "So lemme tell you what's going to happen here".
The Compton-bred rapper calls for Laura Ingraham to be fired, stating:
"@foxnews fires this disrespectful c**t by tomorrow, Monday morning or you will lose millions of viewers one person at a time until it drastically effects your ratings, views etc."
The rapper continues to explain that "we are NO LONGER laying quiet while you continuously disrespect our brother, culture African Americans as a whole."
He continues "I will use my platform & call on my peers to do the same. Nips passing nor his legacy is to be taken lightly as there will be consequences for any disrespect now or in the future as long as I have a voice !!!"
The Game made it clear that he wanted Laura Ingraham to be sacked over this disrespectful situation. He also lets Fox News know that nothing can make up for her horrible insensitive comments.
The Game states: "We will not be accepting any apology from her," he warns. "We want her fired, PERIOD !!!!!"
The Fox News are yet to address the situation, which has them in turmoil following a whole community coming together and standing up for themselves, also defending the late rapper Nipsey Hussle.
>
>
>