Taylor Swift Sends Flowers To Congratulate Cardi B On Success
27 September 2017, 11:04 | Updated: 27 September 2017, 11:20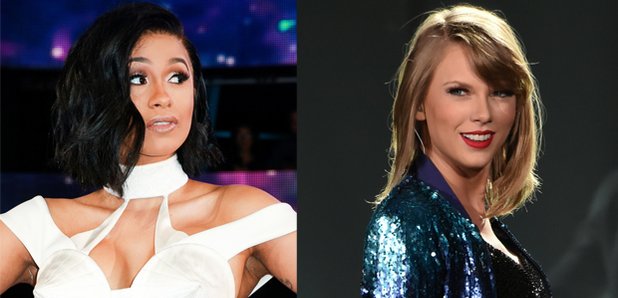 Taylor is the latest celebrity to join the Cardi fan club.
Taylor Swift has sent a bunch of flowers to Cardi B to congratulate her on reaching the top of the Billboard 100 charts with 'Bodak Yellow'.
Cardi overtook Swift's 'Look What You Made Me Do' to be become the first solo female since Lauryn Hill's 'Doo Wop' in 1998 to have a No.1.
Taking to Instagram, the New York rapper shared a Boomerang clip of herself with a huge box of flowers.
"Sooo beautiful and lovely," she wrote. "Thank you Taylor Swift for the flowers… and I freaking love your music."
Interestingly, Cardi B appeared to throw shade at Taylor Swift yesterday when she discovered that she reached No.1.
The rapper danced around singing 'Look What You Made Me Do', while celebrating with her team.
Fans have since taken to Twitter to suggest that Taylor Swift's intentions may not be pure.
TAYLOR SWIFT IS PLAYING THE VICTIM AS ALWAYS!!!! Flowers really? She's doing this for publicity so she can reach the #1 spot again!!!!!

— Slaylord Swiftsus (@dipswift13) 26 September 2017
If I were Cardi B, I wouldn't of accepted Taylor Swift's flowers. I would've taken them to the nearest cemetery...

— Nene Fleeks (@AsToldByDesmoe) 26 September 2017
Taylor Swift sending Cardi B flowers was cute but Swift is so annoying that of course I'm thinking she wants in on the attention

— Reginahsrunway (@ReginahsRunway) 27 September 2017
*Two Weeks Later*
"This just in Taylor Swift claims Cardi B stole flowers from her"

— (@QRich58) 27 September 2017
Lmaooo Taylor Swift sent Cardi b flowers knowing her ass is mad that she got booted off the charts with that discounted song

— EM (@eurasiamaccalia) 26 September 2017
Meanwhile, Cardi B has continued to be showered with praise from the rest of the music world, with Nicki Minaj, Remy Ma, Missy Elliott, Rita Ora, Kehlani and more, all showing their support on social media.
However Azealia Banks has attempted to spark a feud with Cardi, after labelling her a "poor man's Nicki."
Cardi B has responded by leaking footage of Banks dancing to 'Bodak Yellow' in a club.