7 'Reputation' Taylor Swift Lyrics That Were Almost Definitely About Kanye West
10 November 2017, 10:41 | Updated: 10 November 2017, 16:49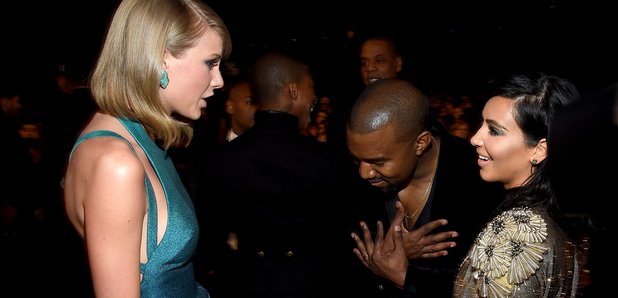 The feud continues...
Taylor Swift appears to have continued her heated feud with long-time rival Kanye West on her new album 'Reputation'.
The pop star, who still appears to hold a grudge against Kanye West after being exposed in his controversial song 'Famous', has taken more shots at Yeezy throughout the new 15-track project.
Kanye fans were already angry after the album dropped on the 10th anniversary of his mother Donda West's death however the 'Look What You Made Me Do' wasn't finished.
Here are 7 Taylor Swift 'Reputation' lyrics that could be aimed at Kanye West:
Song – 'I Did Something Bad'
Lyric - "I never trust a narcissist, But they love me, So I play 'em like a violin, And I make it look oh, so easy, 'Cause for every lie I tell them, They tell me three, This is how the world works, Now all he thinks about is me."
Taylor Swift appears to calling out Kanye West's big ego and addresses their longtime feud, claiming that he is now obsessed with the situation.
Lyric - "They're burning all the witches, even if you aren't one, They got their pitchforks and proof, Their receipts and reasons, They're burning all the witches, even if you aren't one, So light me up."
Some fans think Taylor Swift is referring to Kanye West recording their phone call about his song 'Famous'. Kim Kardashian later leaked the audio on Snapchat.
Song – 'This Is Why We Can't Have Nice Things'
Lyric - "It was so nice being friends again, There I was, giving you a second chance, But then you stabbed my back while shaking my hand."
Taylor appears to be talking about Kanye West mending their friendship following the VMAs, only for him to mention her in his track 'Famous'.
Lyric - "And therein lies the issue, Friends don't try to trick you, Get you on the phone and mind-twist you, And so I took an axe to a mended fence."
This is a direct reference to Kanye West's 'Famous' track. He told Taylor Swift about mentioning her in the song however she was angry about his use of the term b*tch. Kim Kardashian then leaked the phone call on Snapchat.
Lyric - "But I'm not the only friend you've lost lately / If only you weren't so shady."
Some fans think this line references Kanye West's recent feud with longtime friend and mentor JAY-Z.
Lyric - "And here's to my momma, Had to listen to all this drama, And here's to you, 'Cause forgiveness is a nice thing to do, Haha, I can't even say it with a straight face."
This line is a potential shot at the "drama" that Kanye West caused her family and her unwillingness to forgive him.
Song – 'Look What You Made Me Do'
Lyric - "The role you made me play, Of the fool, no, I don't like you, I don't like your perfect crime."
Fans think that Taylor is referring to the time she was famously humiliated by Kanye West at the MTV VMAs or his song 'Famous'.
Kanye West is yet to respond to Taylor Swift's latest disses.
However Kanye West fans are currently celebrating 'Hey Mama Day' – an attempt to stop Taylor Swift's album from succeeding by streaming his song 'Hey Mama' all day, in honour of his late mother Donda.
Listen to Taylor Swift's new album 'Reputation' now on iTunes.