Taylor Swift Accused Of Mocking Kim Kardashian's Paris Robbery By Furious Twitter Users
29 August 2017, 11:50 | Updated: 29 August 2017, 11:57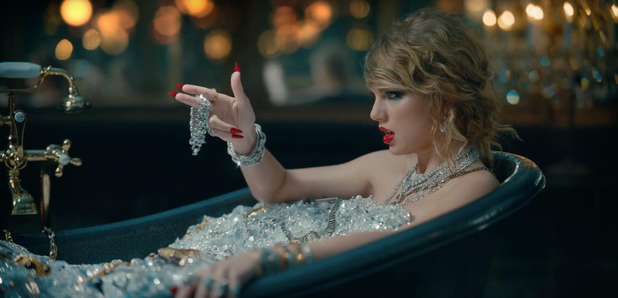 The reality star was famously robbed of over £8m jewellery in Paris in October 2016.
Taylor Swift has been targeted by Internet users for allegedly mocking Kim Kardashian's gunpoint robbery in her new music video.
The singer premiered the controversial visual for her new song 'Look What You Made Me Do' during the 2017 VMA's this weekend.
During the video, Swift can be seen laying in a bathtub, covered in diamonds, and on the line "I don't like your perfect crime", the camera pans to her hands, which are adorned with jewels.
On the line "You said the gun was mine", Swift draws her hand into a gun shape and fires a shot.
Soon enough, viewers began speculating whether or not the action was a hint to Kim Kardashian's infamous robbery in Paris last year, which saw robbers make off with £8m worth of jewellery - specifically, diamonds.
The reality TV star was reportedly placed in a bathtub after being gagged and held with a gun to her head in her hotel suite.
Kardashian, who shares two children, North and Saint, with husband Kanye West, later revealed that she thought she would be raped and murdered during the horrific ordeal.
From this aspect, the visual garnered a negative response from viewers who labelled the alleged dig as "evil".
Taylor Swift making fun of Kim K's robbery in her new video is as low as it gets. That girl is pure evil. #VMAs

— (@nickitellem) 28 August 2017
Taylor Swift making fun of Kim's robbery was crossing a line. No respect for that bullshit. How do people stan her?? pic.twitter.com/JMa0zyJq20

— Allie (@Fergyonce) 28 August 2017
taylor swift is literal trash, laying in a bathtub full of jewels to mock Kim's robbery and the fact she was tied up in the bath gtfo

— queen fabray (@VVLETPRADA) 28 August 2017
idc about taylor swift but taking someones robbery for publicity is so shity. its not "revenge", its straight up bullshit.

— Cristal Salgado (@cristalslgd) 28 August 2017
Taylor Swift mocking our Kim's robbery at gun point is a new low.

— Sam FH (@SamF_H) 28 August 2017
Swift is yet to respond to the allegations.
Meanwhile, reports claim that Kim and Kanye are entirely unbothered by the country-turned-pop singer's latest release.
"They find it pathetic that she still tries to keep an old feud going," a source told People magazine, claiming that they "don't care about Taylor's music".
"They are not going to give her or her new music any attention," the source adds, "They have more important things to focus on, like their family."
Additionally, after the single's release, Kanye's 'Monster' collaborator Nicki Minaj appeared to shade Swift on Twitter.