Tay-K Denies Beating Up 65-Year-Old Man In Newly Surfaced Video Amid Robbery Case
13 August 2019, 17:21 | Updated: 13 August 2019, 17:25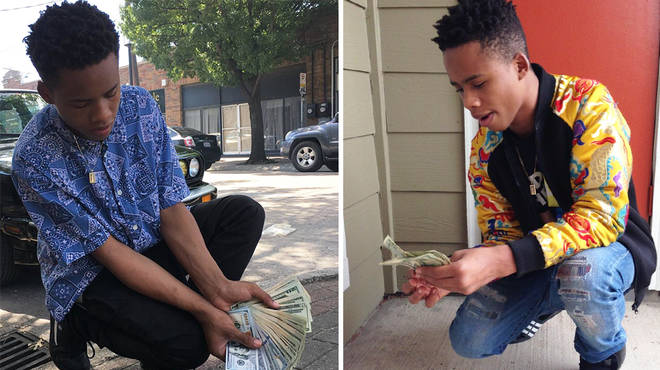 Tay-K refutes claims that he beat up an elderly man in a park in new footage that has emerged on social media. The 19 year-old rapper is currently behind bars facing 55 years in prison.
On Friday (May 3), Fort Worth Star-Telegram reported that Tay-K is facing a lawsuit from an elderly man who claims the rapper, who was 16 at the time, beat him while running from the police in May 2017.
A new video has surfaced online of the "The Race" rapper denying and refuting claims that he beat up an elderly man in a park.
On Tuesday (Aug 12) Media personality DJ Akademiks took to Instagram and posted a video of Tay-K denying that he beat up the elderly man in the park.
The rapper can be heard saying "I only got one thing to say, I did not- ever never never never never rob no old ni**a at no park boy"
According to Forth-Worth Star Telegram, Owney "Skip" Pepe and his wife, Barbara Pepe, filed their lawsuit against the rapper in May.
Pepe claimed he was walking in Cravens Park on 25th of May 2017, when Tay-K approached him from behind with a gun and demanded his wallet.
The lawsuit alleges "McIntyre then savagely beat the defenseless 65-year-old, leaving him unconscious with multiple broken bones and [a] brain bleed".
"McIntyre dragged Mr. Pepe's body off the trail and left him for dead in the woods."
During the alleged attack, Tay-K was on the run after allegedly fatally shooting Mark Anthony Saldivar during a robbery in San Antonio, Texas in April 2017.
Tay-K was recaptured in June 2017and is accused of the murder of 23-year-old Mark Saldivar the robbery and beating of 65-year-old Owney Pepe.