Suge Knight "Once Saved Tupac & Dr Dre From Being Shot At A Party" Claims Eyewitness
3 May 2019, 12:15 | Updated: 3 May 2019, 13:11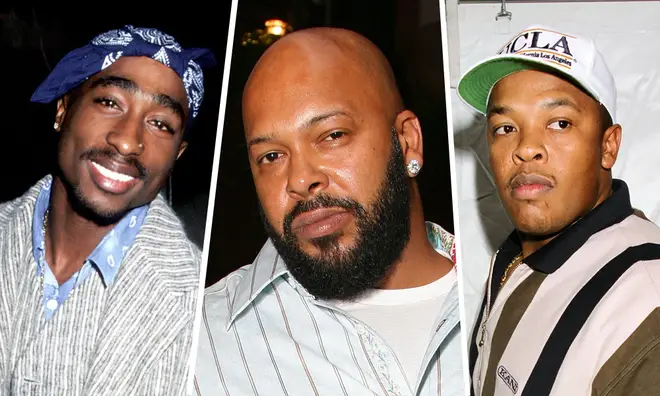 A story has emerged which details how Suge Knight once saved both Tupac and Dr Dre from becoming involved in a potential shooting at a Chris Tucker party.
Suge Knight, Dr Dre and Tupac are some of the first names you'll think of when reminiscing about Hip Hop during the nineties, but whilst there have been films made and biopics released it turns out there are still some never-before-heard stories.
Luckily for us we've been treated to a pretty juicy one from the memory of platinum-selling Producer & Songwriter Delray Richardson who claimed that Suge Knight once saved Dr Dre and Tupac from being shot at a Chris Tucker after-party.
Suge Knight Potentially Saved 2pac & Dr. Dre From Gunshots At Chris Tucker After Party.
Talkig to The Art Of Dialogue, Richardson explains, "It was 1995 and Tupac had just got out of jail," before stating the event at the SSR Theatre was the "hottest ticket in town"
At about 12.30pm Richardson claims people started leaving through the back door of the venue but when he and Dr Dre left the party they were met with gunshots from an unknown shooter.
"When we get outside you hear 'pap 'pap' 'pap', you hear gunshots and Dre he jumped in the bushes," he explains before revealing that Suge came out and ensured everyone was safe.
He went on to say, "I'm banging on the door and then all of a sudden Suge come out the party walking normally, you know not rushing or nuttin cos I don't think they could hear it."
"He was like 'What's up homie?' and I was like 'These motherf***ers out here shootin" and then Dre come out the bushes and you know, some other people come out behind Suge."
Explaining how Suge protected the group, Richardson explained, "I guess he rounded up the troops and the security and everbody they was with and kinda started rallying around everybody and rallying around Pac...it was more about Pac and making sure he was safe then it was anything else."
"It was a crazy night man like I said, so Suge came and opened the door and I felt real thankful that night cos you didn't know what was gonna happen. You didn't know if the dudes was gonna come around the corner and start bussin the guns, if they was chasing somebody, you didn't know nothing."
Revealing that he would've been hiding in the bushes with Dr Dre, Richardson revealed, "Dre jumped in the bushes. I woulda been in the bushes with himbut wasn't no motherf***in room in that motherf***er - Dre was a little bit bigger than he is now, he all healthy now."
Listen to Delray Richardson's conversation with The Art Of Dialogue in full above.
> Download Our Free App For All The Latest Music News!