Stormzy Reacts To Rihanna's 'Bitch Better Have My Money' Video
6 July 2015, 11:36 | Updated: 6 August 2015, 12:40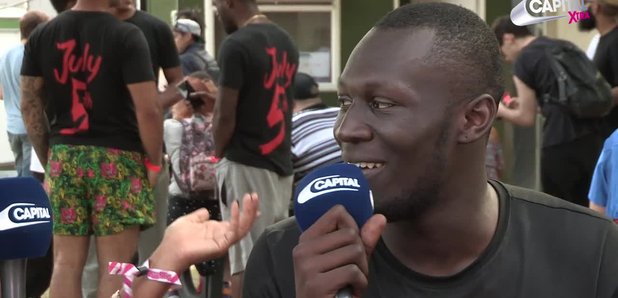 The South London MC says he'd like to have met Rihanna at the BET Awards.
Stormzy talked about his recent win at the BET Awards.
The South London MC spoke to Capital FM's Max about winning the award for 'Best International Artist: UK' at the US awards show.
"It was mad, I was starstruck to be honest," he said of the event which attracts the biggest names in hip hop and pop music.
Asked who he'd most like to have met, Stormzy named singer Rihanna. "Because she's a bad gal," he explained.
The 'Know Me From' MC seemed unperturbed by Rihanna's murderous antics in her recent video for 'Bitch Better Have My Money'. "I like that though, she's edgy, she's got a wild side," he said.
Stormzy did, however, get to perform with one of his heroes, Dizzee Rascal, at Wireless, who joined him on-stage to perform his classic 'I Luv U'.
Read up on everything you need to know about Stormzy in our guide to the grime prodigy.
You might also like...