Stefflon Don & Burna Boy Shock Fans With Racy Topless Video After Confirming Romance
18 February 2019, 12:18
Stefflon Don recently declared her love for Afrobeats star Burna Boy after he treated her on Valentines Day, later clutching her new boyfriend by the chest in a loved-up new clip.
Stefflon Don and Burna Boy are all boo'd up, and things appear to be heating up between the new couple.
In a video posted by the Afrobeats star, Steff can be seen clutching her manicured hands around a topless Burna's chest as he nods his head to the camera, with Staff peering out behind him.
Last week, the '16 Shots' rapstress declaring her love for the Afrobeats star on Valentines Day after he surprised her with a Mariachi band and covering his apartment with red roses and love notes.
"I swear to never EVER hurt you," read one card, a nod to Steff's chart-topping hit 'Hurtin' Me'. Clearly moved by Burna's romantic gesture, Steff declared, "I love him."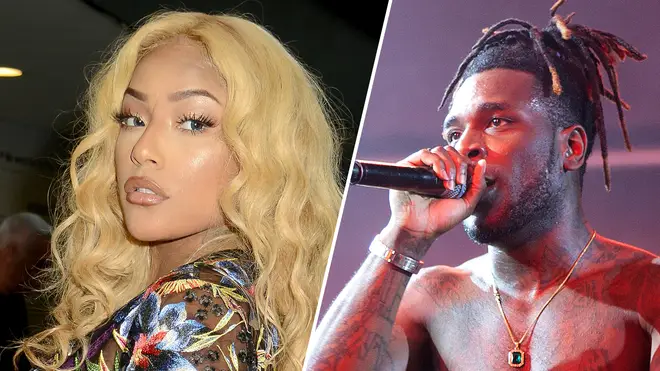 And Burna wasn't the only one being treated. In return, Steff gifted her new beau a present from Dior. "My first Valentines I ever got," Burnt told his followers, "Thank u baby."
Burna Boy, real name Damini Ogulu, had previously shared a video of the 27-year-old starlet sleeping on his chest as he lay topless, sparking rumours of a relationship between the pair.
At the time, Steff addressed the rumours on Instagram, writing, "Relax guys, he ain't hit yet but that's bae."
Steff was previously romantically linked to R&B singer Tory Lanez, and was also spotted on a date with Drake after the pair flirted up a storm on social media.