Soulja Boy Trolls And "Exposes" Jordyn Woods Amid Cheating Scandal
25 February 2019, 11:42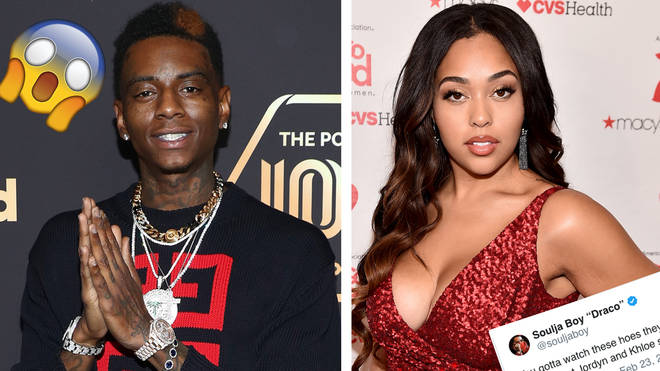 Soulja Boy speaks out on Jordyn Woods being identified as the "other woman" in the Tristan Thompson cheating scandal...
It is safe to say Jordyn Woods has been one of the most talked about celebrities in the past week - and it isn't for a particularly good reason.
Jordyn Woods has been identified as the "other woman" who allegedly came between the parents of baby True, Tristan Thompson and Khloe Kardashian. Since then, the scandal has been confirmed to be "true" by sources close to the Kardashian family.
An enormous amount of shade has been thrown by Khloe's big sister Kim Kardashian, and BFF Malika. It wouldn't have been too long until Soulja Boy decided to jump on the "throwing shade" bandwagon - and infact, he gets very direct and personal.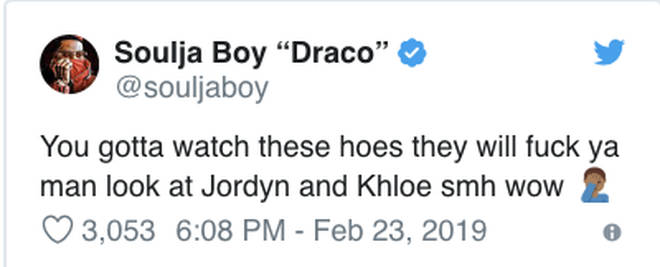 Soulja Boy took to Twitter, to warn his female following of unreliable friends while indirecting Jordyn Woods in the process.
The Crank That star tweeted:
"You gotta watch these hoes they will f*ck ya man look at Jordyn and Khloe smh wow,".
A social media user suggested Soulja Boy wished he could get with Jordyn in a tweet saying:
"I bet you wish you could get some of that jor Jordyn action."
Soulja Boy shocked fans with his response, by he's "been had that". Soulja Boy suggesting he has been with Jordyn Woods before has got Twitter users going insane.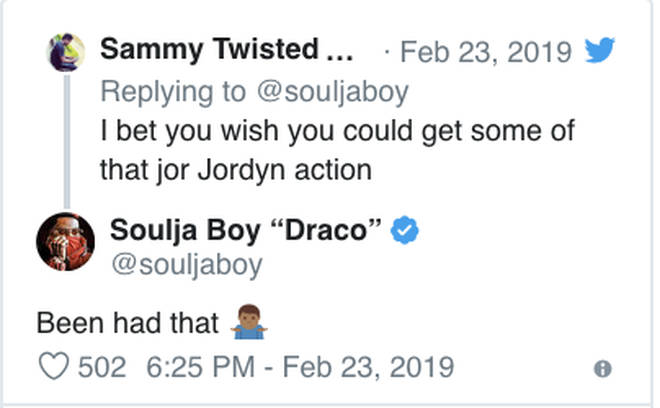 Soulja Boy has received a significant amount of backlash from outing and exposing Jordyn Woods allegedly being with him. Some fans find it funny and support Soulja's claims of not trusting your female friends, however, many fans are backing Jordyn Woods and accusing him of "degrading" women.
Boy u are the biggest 🧢 ever stop lying on your dick u just lied on your dick about @BLACCHYNA now jordyn u a whole goofy

— KOOT (@KOOTGAMING) February 24, 2019
The internet has been wild with many fans in shock and disgust over Tristan cheating. Most of the scorn was unleashed on famous model, Jordyn Woods, as she is Khloe's younger sisters BFF.
Also, the shock of Woods being such a close family friend has caught fans with a significant amount of disbelief and disappointment.
On the other hand, some fans believe Thompson has gotten off lightly, with most of the focus and contempt being expressed towards Jordyn.
Who are you to degrade people like this . Even if it was a one night stand you should have kept to ur self.

— Faith Dahir (@FaithDahir) February 24, 2019
Many have chimed into the discussion blaming Jordyn Woods' and holding her accountable for being the main reason why Tristan and Khloe broke up. The rapper sided with most of Woods' critics.