Soulja Boy Throws Shade At Floyd Mayweather During Epic Twitter Rant
18 January 2017, 10:37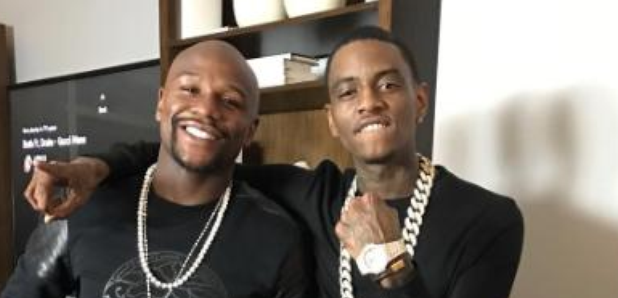 He's making BIG changes.
Soulja Boy has come after his trainer Floyd Mayweather as he claims the fight preparations are not moving quick enough.
The upcoming boxing match between the rapper and his nemesis Chris Brown was originally being promoted by Mayweather, but now it seems Soulja is taking matters into his own hands after voicing his infuriation working with the boxing icon.
Soulja embarked on a huge Twitter rant, announcing his plans to take over the fight's organisation as well as an expected March date.
The tweets, which have since been deleted, read:
"YALL KNOW WHAT IM THROWING THE FIGHT. THESE N***AZ TAKING TOO LONG F**K THIS S**T YOU NEED TICKETS HIT ME IM RUNNING THE SHOW" he said.
"IM RENTING THE VENUE. IM SETTING THE DATE. IM SELLING THE TICKETS. THIS WILL BE A SOULJA BOY PROMOTION. HIT ME FOR TICKETS THEY ON SALE NOW,"
"THE FIGHT WILL GO DOWN IN MARCH HIT ME FOR TICKETS. BIG SOULJA PROMOTIONS."
The rapper also claims he will be spilling the beans on 'Jimmy Kimmel Live' during an interview with the talk show host, where he will discuss the upcoming bout as well as his own individual ventures.
"I will give an interview on Jimmy Kimmel Live about the upcoming Fight, And my new Tour, and TV Show update."
Various contradictory details have been circulating since the original announcement of the fight, which will see Soulja go head-to-head with Breezy in an attempt to settle their ongoing beef.
Rumours suggest that the location of the match will either be in Los Angeles, Las Vegas Or Dubai, with the date being in either January and March.
However, if Soulja's recent announcement is finite, it looks like we'll be waiting another couple of months for the highly-puclicited face-off to go down.
In related news, Soulja recently came after Kanye West for being too old to be involved with fashion.