Soulja Boy Roasted By Fans After Length Of Prison Sentence Revealed
1 May 2019, 13:09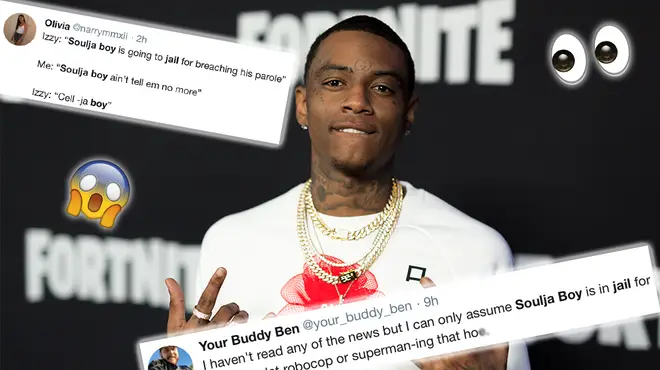 Soulja Boy has been getting roasted by fans who have taken to social media to troll the rapper, after finding out the news of his lengthy prison sentence...
Soulja Boy has been getting roasted on Twitter following the news that came of his lengthy prison sentence. Fans have been going in on the "Crank That" rapper for getting himself into such a situation that it results in him going prison and doing community service.
The Atlanta rapper's legal troubles are getting severe as reports reveal he has been sentenced to 240 days in jail for violating his probation. The star is also mandated to serve 265 days of community service.
Since Big Drako got arrested (Apr 11th), his lawyer revealed that the rapper underwent an "awakening." However, that didn't stop the judge from sentencing him to 240 days in jail.
According to TMZ, the judge initially intended to give Soulja two full years in jail. However, due to Soulja's missed business opportunities business opportunities, the judge decided to give him a bit of leeway.
There's an article on Shaderoom of Soulja Boy being sentenced to 8months in jail and someone commented 'kiss me thru the phone'. Ya'll going to hell yes. pic.twitter.com/L5V8GQbcrS

— nathan (@868nathan) May 1, 2019
Soulja faced a felony possession of a firearm charge back in 2017, which resulted in Soulja's no contest plea. The rapper made a deal which permitted him to have five years of probation and 240 days of community service.
In February 2019, Soulja was arrested after his ex-girlfriend reported to police that he held her captive in his garage. Following her allegations, cops raided his home, and seized ammunition, which lead to the case he is dealing with now.
Izzy: "Soulja boy is going to jail for breaching his parole"

Me: "Soulja boy ain't tell em no more"

Izzy: "Cell -ja boy"

— Olivia (@narrymmxii) May 1, 2019
In April, Big Drako was arrested for failing to complete previously assigned community service. While in custody, the star's San Fernando Valley home was burglarized. Thieves managed to make off with over $500,000 worth of jewelry and took to Soulja's Instagram Live to brag about it.
Soulja Boy trolled Tekashi 6ix9ine and famously claimed that he wasn't "gonna go out like 6ix9ine".
However, fans have compared him to 6ix9ine and continue to roast him on Twitter. See the comments below.
Does anyone really care that Soulja boy is going to jail for 8months? I just don't see the vision in this being news 🤷🏻‍♂️

— STREETRUNNER (@SRbeats) May 1, 2019
Naw he needs to be in jail. You can't violate probation and get off easy. Stop doing the crime if you can't do the time.

— MasterShake (@801ShAkE) May 1, 2019
I haven't read any of the news but I can only assume Soulja Boy is in jail for cranking dat robocop or superman-ing that hoe.

— Your Buddy Ben (@your_buddy_ben) May 1, 2019
>
>
>