Soulja Boy Reveals The Real Reason Behind His Beef With Chris Brown - WATCH
9 January 2017, 12:06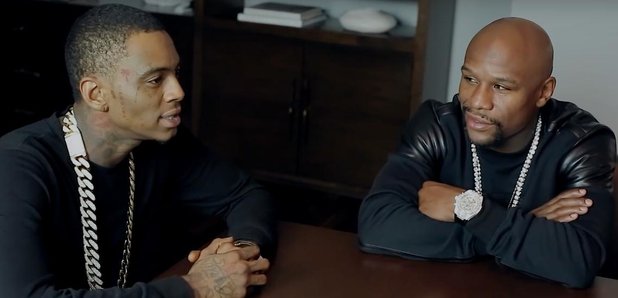 This changes everything.
Soulja Boy has confessed that his ongoing beef with Chris Brown all started over a woman - and it's not, as many people may assume, Brown's ex Karrueche Tran.
It's Rihanna.
Yep, another famous ex-girlfriend of Breezy, Rihanna is supposedly the real reason behind the recent argument.
During an interview with Hollywood Unlocked last week, Soulja sat alongside his trainer and professional boxer Floyd Mayweather to further explain the situation between him and Brown.
The 'Crank That' rapper suggested that the beef actually traces back to 2009 after Chris Brown infamously assaulted Rihanna before the Grammys.
"What he really mad about is that I was with Rihanna, you know what I'm saying?" said the Atlanta rapper.
"And no one would have never knew that, n*****, if he hadn't come and started tripping about Karrueche. I was with Rihanna, son. Rihanna, n*****. Yeah, Google the s**t, YouTube the s**t."
Watch the video below:
Soulja claims that he was with Brown and Rihanna, as well as fellow rapper Bow Wow, at a Pre-Grammy party the night before the assault made global headlines the following morning.
The rapper also went on to say Rihanna personally requested to attend a concert that Soulja was performing at, before hopping onto his tour bus after the show.
The rapper was dating actress and dancer Teyana Taylor at the time but had kicked her off his tour bus so he could hang out with Rihanna instead.
Upset by her then-boyfriend's actions, Taylor allegedly contacted Brown to let him know what was happening, before Soulja and Rihanna allegedly hung out together in New York to "smoke, eat, and watch Pineapple Express".
"That's what the beef really stems from. It stems from Rihanna," Soulja said.
"Same sh*t he doing now with Karrueche."
The beef has resulted in an upcoming boxing match, which will see the pair go head-to-head in the ring in an attempt to settle the argument.