Pink's Reaction To Christina Aguilera's Whitney Houston Tribute Was Priceless
20 November 2017, 10:29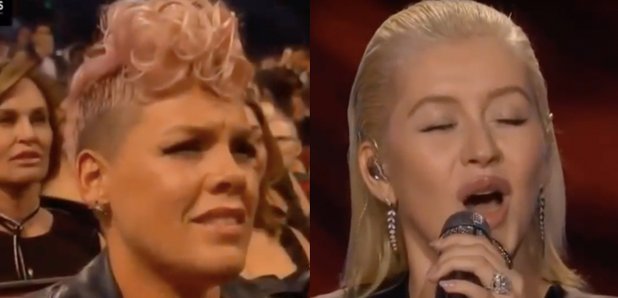 The performance received mixed reviews.
During this year's American Music Awards, Christina Aguilera performed a live musical tribute to the late Whitney Houston.
As the songstress belted out hits by the musical legend including 'I Have Nothing' and 'I Will Always Love You', the camera panned round to Pink.
Unfortunately, the cameraman timed the shot perfectly to capture a rather pained expression on the 'What About Us' singer's face.
Many viewers quickly assumed that Pink was throwing shade at Christina, while others argued that she may be impressed or moved by the performance.
#AMAs Pink's face during Christina Aguilera's performance had me weak pic.twitter.com/yPMcOGKkgC

— chickfiltay (@tcaxo_) 20 November 2017
Can we just talk about Pink's face during Christina Aguilera's performance It looked a little like this #AMAs pic.twitter.com/SORWtZ3K6a

— Jocelyne Lopez (@JocelyneLopez88) 20 November 2017
Pink and Ciara sat there and looked at Christina Aguilera like #AMAs2017 #AMAS pic.twitter.com/vLvncQzgUo

— Charlie (@_cvalentino_) 20 November 2017
People are getting the Pink and Christina Aguilera situation wrong. Pink was wowed by her and smiled/clapped for her, but enjoy your retweets. #AMAs

— Norman D. Golden ll (@NormanGoldenll) 20 November 2017
The duo famously engaged in an public feud during the early 2000s, during which they collaborated on the chart-topping 'Lady Marmalade', but have since reconciled.
However, as Christina sang a rendition of 'I Have Nothing' later during the medley, Pink was seen smiling and applauding from the front row.
Pink also took to Twitter between performances to shut down the rumours, reposting a tweet explaining the squashing of their beef before commenting on the situation herself.
.@Pink and @Xtina deaded their beef last year and have been FRIENDS since, respecting each other's amazing talent as grown women. stop creating something out of nothing @TheShadyFacts

— Mark Sundstrom (@106th) 20 November 2017
Yes. THIS. Christina fucking killed it tonight for one of our favorite singers ever. This about Whitney, and I am in awe of Christina's talent. Show the clip where I'm in tears, you negative Nancy's https://t.co/5Lroq73xrQ

— P!nk (@Pink) 20 November 2017
Following her performance, Christina took to Twitter to thank Whitney's family and the AMAs for the "incredible" opportunity.
@amas #whitneyxchristina pic.twitter.com/7aOKkevcmp

— Christina Aguilera (@xtina) 20 November 2017