The #DiddyCrop Returns After French Montana Gets Photoshopped Out Of Grammy Photo
31 January 2018, 11:22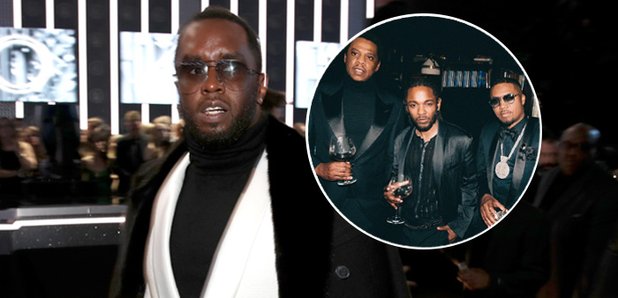 Who knew Diddy was such a dab hand at Photoshop?!
Remember when Diddy cropped Kendall and Kylie Jenner out of that Met Gala group selfie last year? Yeah, he's back at it again.
Following the 60th Annual Grammy Awards, the music mogul took to social media to post a photo of Jay-Z, Kendrick Lamar, and Nas posing together at his pre-Grammy bash.
Dubbing the iconic trio '3 Kings!' and '3 GREAT FRIENDS!' before adding the hashtag #BlackGreatness, it wasn't long before eagle-eyed Twitter users noticed something a little odd about the image.
Because that same day, French Montana posted an identical photograph on his Instagram page which featured himself and fellow rapper Fabolous before the three rap icons.
Not only did Diddy's image have Fabolous cropped out entirely, but French appeared to have been completely Photoshopped out of the image and replaced by a book shelf.
Did Diddy really just... pic.twitter.com/ZvNDCAuKt8

— simma (@foreversimma) 30 January 2018
Diddycrop the distractions out ya life.
Diddycrop the negativity out ya life.
Diddycrop the excuses out ya life.
Take That (x3) pic.twitter.com/d8yhf4tUKz

— Michell a.ka. Killa Chell a.k.a. Not Michelle (@MichellCClark) 30 January 2018
Diddy's crop game BEEN on steroids pic.twitter.com/zSQiS9xRHx

— senpai. (@moagii_) 30 January 2018
Gonna diddycrop the negativity out and diddyshop the positivity into my life https://t.co/7kYs0ExalF

— Moose (روان) (@BellaRoona_) 30 January 2018
This is the type of petty I aspire to be. pic.twitter.com/2bU4SQ98aR

— Najma Sharif (@overdramatique) 30 January 2018
In all fairness, Diddy himself isn't featured in the picture himself, but someone should probably check in on French Montana and make sure he's okay.