Who is Not3s' girlfriend Aliyah Raey? Instagram and age revealed
24 February 2021, 13:12 | Updated: 24 February 2021, 13:58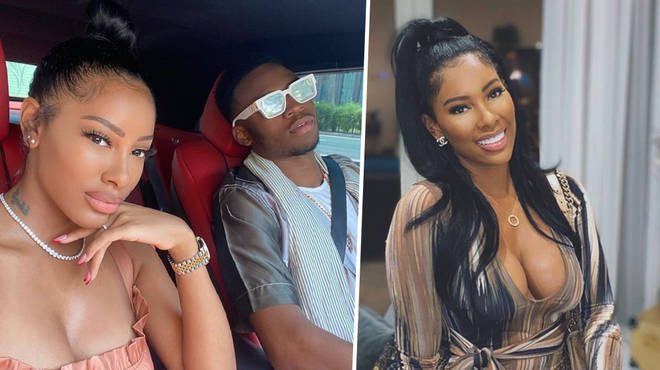 Not3s and Aliyah have been widely discussed on social media due to their relationship, but who is Aliyah Raey?
Not3s and his girlfriend Aliyah Raey were couple goals and seemed to have a relationship that many would aspire to have.
The two young successful go-getters excited fans when they revealed they were expecting their first child together last year.
However, their relationship became a trending topic on social media after Not3s was accused of cheating on his pregnant girlfriend with YouTuber Yasmin – but what actually happened?
Find out more below.
Who is Not3s girlfriend Aliyah Raey?

Aliyah Raey was born in Jacksonville, Florida.

The American fashion and accessories entrepreneur works as an influencer and owns her own lingerie brand called 'Pierre Noire'.

Aliyah Raey.

Picture: Instagram

Raey was first widely recognised for founding the online contemporary womenswear boutique Meeting Attire.

Aliyah Raey also built her own YouTube Channel called 'The Reality of Raey' which focussed on fashion and lifestyle.

Aliyah Raey is an American fashion entrepreneur, as well as a social media influencer.

Picture: Instagram

Aliyah was previously married to football player Demba Ba in 2017 and they lived in Dubai together.

She has a sister called Jasmine, who often posted videos featuring with Aliyah, on her YouTube channel titled 'The Journey Continues'.

Aliyah Raey shares first photo with her and Not3s' son.

Picture: Instagram

On Tuesday (Feb 22) Aliyah Raey revealed she had given birth to her son, whom she shares with Not3s.

The social media sensation shared the first photo with her newborn son.

In the photo, Raey is seen holding the little baby boy, who is covered in a Fendi blanket.

Not3s later shared a photo of his own, with their adorable son. He posted a photo of the baby clenching onto his finger on Instagram.

What is Aliyah Raey's Instagram?

Aliyah Raey has 182k followers on her Instagram under the handle @aliyahraey which she has changed to be a private account.

What is Aliyah Raey's age?

Aliyah Raey is 26 years-old. She was born on October 8, 1994. Her birth sign is a Libra.

What is Not3s age?

Not3s is an East London rapper who is 22 years-old. Not3s was born on April 17, 1998.

Not3s and Aliyah Raey's relationship

The pair became official in February, sharing images on social media.

However, Not3s' girlfriend announced on September 20th that the pair would be welcoming their first child together.

Aliyah and Not3s shares sweet photos on Instagram, quickly becoming the internets "couple goals".

Picture: Instagram

Sharing an image of her holding her bump, she captioned it: "Life never existed before you."

On October 31st she confirmed that she is expecting a boy.

Alongside an image of herself with blue eyeshadow, she captioned it: "To my son, you're everything I've ever dreamed of. Couldn't have wished for a better birthday surprise! ITS A BOY. My biggest blessing is you."

Who is Yasmin? Did Not3s cheat?

Yasmin is a 22 year-old YouTuber who began a channel with her sister, Halima, titled ' Yas and Hals'.

Since their channel launched in 2016, it has grown and amassed 313k subscribers.

Yasmin.

Picture: Instagram

On Wednesday (Nov 18) Yasmin took to Instagram to expose Not3s for allegedly meeting up with her while his pregnant girlfriend, Aliyah Raey was in Dubai.

Yasmin claimed that Not3s wanted to meet up with her romantically.

In a surprising turn of events, Youtuber Yassy - from the popular sister duo #YasandHals - exclusively revealed that Not3s tried to rekindle their old fling.

As many of his fans know, Not3s is expecting a child with his long-term girlfriend Aliyah Raey. pic.twitter.com/MWwucJ3LBk

— The Shade Borough (@TheShadeBorough) November 18, 2020

Yasmin deemed it as disrespectful and alleged that Not3s suddenly stopped speaking to her after her father passed away.

She claimed that she wanted to get closure on that situation, which is why she wanted to meet with the rapper.

See further details above.