Nicki Minaj And Taylor Swift Open MTV VMAs With Duet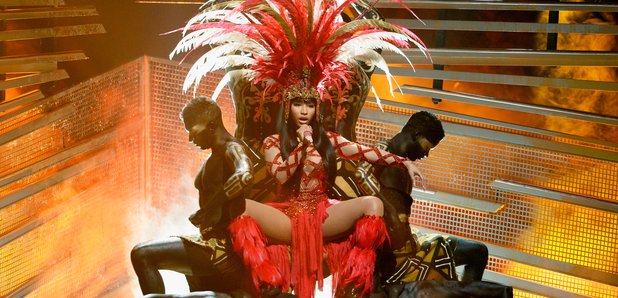 Nicki and Taylor Swift's performance was followed by A$AP Rocky, Pharrell, and more.
Nicki Minaj and Taylor Swift joined forces to kick off the MTV VMA Awards, following their well-publicised Twitter feud.
The rapper began with a lively performance of her latest single 'Trimi Dem Girls', before Swift joined her on the stage for 'The Night Is Still Young' and 'Bad Blood'.
Watch footage below:
.@NICKIMINAJ just killed it opening the #VMAs and so did her special guest! http://t.co/Xpl2djiKQ4

— MTV (@MTV) August 31, 2015
Other notable performances on the night included The Weeknd's fiery rendition of his hit single 'Can't Feel My Face', which even had Kanye West dancing in the audience.
A$AP Rocky also hit the stage alongside rock band Twenty One Pilots for an amazing mashup of genres.
They performed 'At.Long.Last.A$AP' hits 'Ms' and 'L$D', before transitioning into Twenty one Pilot tracks 'HeavyDirtySoul' and 'Lane Boy'
Love this collab! @twentyonepilots + @asvpxrocky #VMAs http://t.co/6Y9erK6cyX

— MTV (@MTV) August 31, 2015
Pharrell also hit the stage for an energetic performance of his new single 'Freedom'.
The 42-year-old had the impossible job of following-up Kanye West's announcement that he will run for presidency, but he pulled it off.
Watch below:
Freedom and @Pharrell light up downtown LA at the #VMAs http://t.co/RcWJsRdL8P

— MTV (@MTV) August 31, 2015