Migos Speak About Chris Brown Beef
29 June 2017, 10:44 | Updated: 29 June 2017, 11:38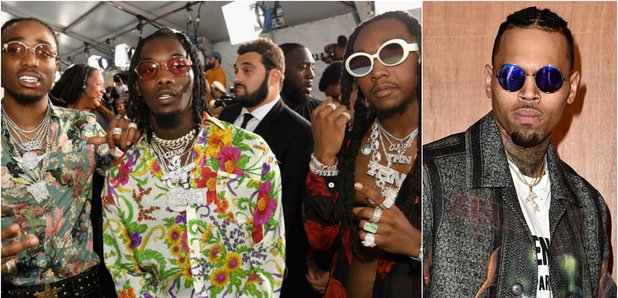 Migos member Offset said a few words about Breezy following an incident after the BET awards.
A confrontation between Migos' and Chris Brown's crew was caught on video after last Sunday's BET awards, possibly linked to the fact Quavo is dating Brown's ex, Karrueche Tran.
Offset was approached on the street while shopping in LA yesterday and was asked what Sunday's altercation was all about.
"Whole lot a paper. Whole lot of haters," he said. "I don't know what's going on."
When he's asked directly if there's beef with Brown he says: "Ain't no beef. We don't want no smoke."
The interviewer then asks whether he's saying Migos and Chris Brown are cool?
Offset is a bit more evasive about this: "I ain't saying none of that. I don't know what you're talking about."
Another guy then asks what he thinks about the beef between Meek Mill and Safaree. Quavo just laughs at it!
This is the incident that sparked rumours of beef:
yall: Chris Brown & Migos were fighting!!1!!1
reality: Chris leaning on the car, chillin pic.twitter.com/4autkRX8Mz

— Queen Mani (@normanimelanin) June 26, 2017
Neither Migos or Brown actually do anything in the video. In fact, Breezy looks pretty chill leaning on a car in his green trousers!