Watch Mariah Carey Bring Pregnant Blac Chyna On Stage For Lapdance
28 June 2016, 15:28 | Updated: 28 June 2016, 15:34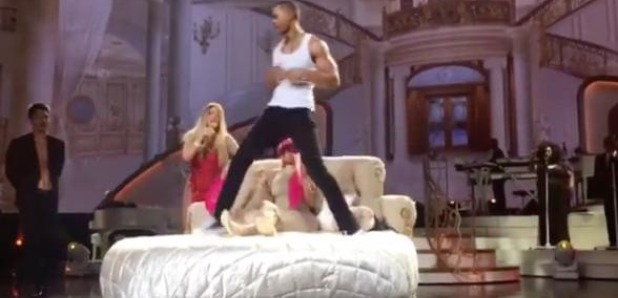 Carey had a surprise for Blac Chyna.
Mariah Carey brought a heavily pregnant Blac Chyna on stage for a lap dance during her show in Las Vegas.
During a performance of her 2008 single 'Touch My Body', Carey blindfolded Chyna on stage and invited a male dancer to perform a shirtless strip tease.
Watch below:

"It was truly a honor to grace the stage with Mariah tonight," said Blac Chyna on Instagram.
"The show was amazing & she was gorgeous!" she added.
Carey also performed a similar blindfolded strip tease for John Legend, who was recently at her show with his wife Chrissy Teigen.
Meanwhile, Mariah Carey is still going through a legal battle with her ex Nick Cannon.
The singer recently hit out at Cannon for still not signing their official divorce papers, despite separating two years ago.