Here's When Fans Can Finally Expect Lil Wayne's New Album 'Tha Carter V'
13 September 2018, 15:39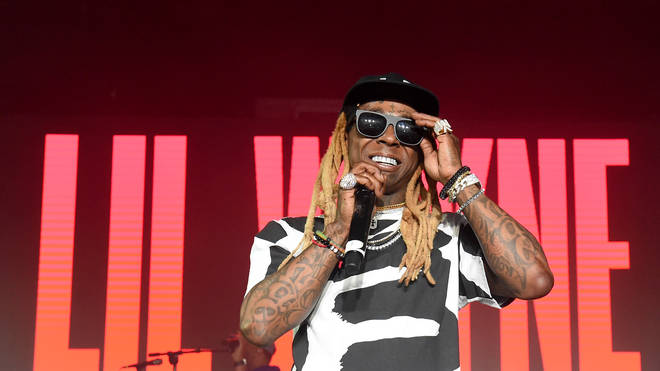 Weezy is officially back!
Lil Wayne has finally announced the release date for his long-awaited new album 'Tha Carter V'.
The Young Money boss will release the much-delayed new LP more than seven years after 'Tha Carter IV' was released in 2011.
According to the official Young Money Twitter account, Lil Wayne will release 'The Carter V' on 21st September.
The album's official cover art feature's Lil Wayne's hand holding up five fingers in front amongst a red and white background.
Interestingly, before Lil Wayne's team made the announcement, Floyd Mayweather posted a "V" image, alongside a caption of a goat and a "21" hashtag, which led to fans thinking that 21st September was the album's release date.
Benjamin Mendy posted this the other day and now Floyd Mayweather has👀

Remember back in 2014 Lil Wayne got top athletes to post this image, to build hype for the Carter V. I think it's happening again. Caption reads "🐐 #21"

Is the Carter V finally releasing on Sept. 21st?😯 pic.twitter.com/SbMWXRSKsQ

— terrellegrahamreviews.com (@TerrelleGraham) September 8, 2018
Lil Wayne's 'Tha Carter 5' has faced lots of delays following his long-running feud and legal battle with Cash Money boss Birdman.
Back in 2015, Lil Wayne officially sued Birdman for $51 million over unpaid royalties regarding himself and the artists on Young Money, including Drake, Nicki Minaj and more.
Due to the complex legal scenario, Lil Wayne's album was delayed a number of times, with no release date announced.
However Birdman, who promised that Lil Wayne's new album would be released this year, recently publicly apologised to Weezy on stage during Lil Weezyana Fest in New Orleans.
"I knew this day was gon' come, but I didn't know when it was gon' come," said Birdman at the time.
"But this ni**a right here, the best ni**a, the realest ni**a, the illest ni**a. And I wanted to apologize to my ni**a worldwide."
There is currently no further information about potential collaborations or song titles however expect Drake to be involved in the project in some way.
Producer Metro Boomin is also rumoured to have worked with Lil Wayne on the album.