Lil B labelled "predatory" after Billie Eilish, 17, 'dating' comment
9 December 2019, 13:22 | Updated: 9 December 2019, 14:29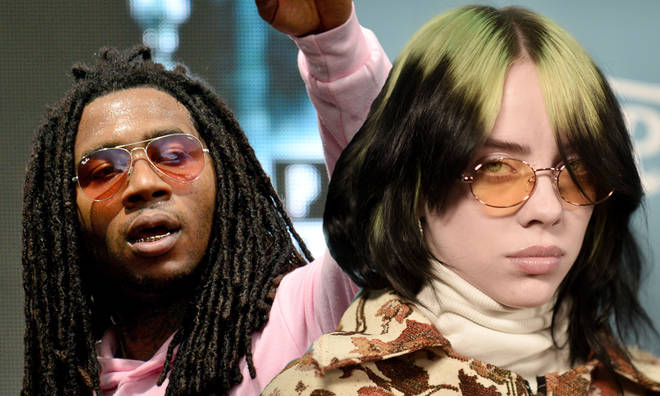 Rapper Lil B was checked by a number of people including fellow rapper Lil Yachty over his comments on Twitter.
After Drake was recently called "creepy" when 17-year-old singer Billie Eilish revealed that he texts her, rapper Lil B has been slammed on social media for what has been labelled as "predatory" comments about the young star.
Taking to Twitter, Lil B, real name Brandon Christopher McCartney, said "Billie Ellish reminds me of girls that thinks Lil b is cute !! I felt like we dated before - Lil B."
After making the comment, Lil B, 30, was quickly called out by fellow rapper Lil Yachty who quote tweeted the 'Based' rapper and said "She is 17 bro".
That sparked a flurry of tweets from Lil B who appeared intent on justifying his original comment and claiming that there was nothing wrong with what he said.
Lil B initially replied to Yachty saying Enough said !' before he added, 'Question for you is what you think I meant when I made that joke?'.
The rapper then went on to say, 'Cuz she do got fans that's grown and I have dated women that are my age that got a unique vibe ! Do you think it's sexual what I said? Or romantic ? Just wondering cuz I ain't think it was neither just somthing cute and funny! But hey !!'.

Closing up the defence of his initial tweet, Lil B replied saying, 'And think this to it's obvious I'm not the only one that thinks she's cool or she would not be signed to a major label !! THe label prob think she cool to right? Every adult that supports her thinks she's cool to? Or should adults just stay away from non adults? - Lil B'
Other replies to Lil B's comments on Billie Eilish saw one Twitter user write, 'it's about time someone famous called lil b out for being predatory' whilst another added, 'Shout out Billie but this might make her uncomfortable lil b'.
> Download Our Free App For All The Latest Music News!