Kylie Jenner Finally Reveals The Truth About Her Singing Career
10 November 2016, 13:21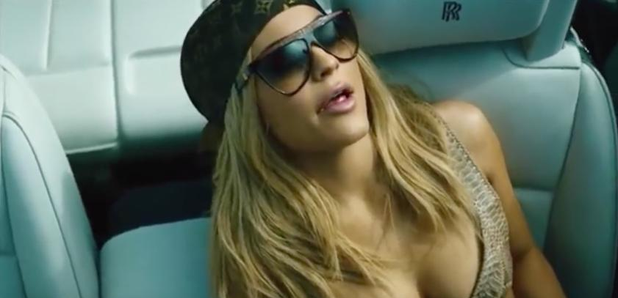 The star has addressed the rumours.
UPDATE
Kylie Jenner has revealed the truth behind the rumours of her potential singing career with American group Terror Jr.
Taking to Snapchat, Kylie strongly denied being a part of the group, after fans suspected that the reality star was the band's lead singer.
Watch the footage below:
'I don't know if the band is just trying to get a little bit of attention,' she says in the video.
'But it's not me.'
Terror Jr are yet to respond to the comments.
09/10/16
Fans are speculating that Kylie Jenner is actually the lead singer of a band called Terror Jr.
Rumours initially surfaced about the reality star's hidden singing career earlier this year, after the 19-year-old appeared in the video for a song called '3 Strikes'.
However speculation died down after it was later confirmed that the song was actually by an unknown band called Terror Jr.
But now fans have discovered actual evidence that Kylie Jenner is the lead singer of the band and sang on the track she used to promote her popular lip kits.
Watch the video for '3 Strikes' by Terror Jr below:
Despite attempting to keep her music career as a secret, she is officially credited as a singer on '3 Strikes', according to the registration.
CONFIRMED: Kylie Jenner is indeed the singer of Terror Jr. Check out ASCAP's registered works pic.twitter.com/HJmB0CSTNt

— Tyler Minear (@TylerMinear) November 7, 2016
Earlier this year, the lead singer of the song was reported to be a person called Lisa. However according to the registration found by fans, Kylie is the only official 'performer' on the song.
Twitter has already began speculating about the conspiracy:
Conspiracy theory #135 Kylie Jenner is actually the lead singer of #terrorjr

— elisa marie (@itselisamarie_) November 8, 2016
When you find out the anonymous lead singer of your favourite band is Kylie Jenner...#terrorjr

— tristen ☼ (@tristendubois) November 8, 2016
i'm so confused reading about Kylie Jenner living another life as a pop star in a band called Terror Jr. do you believe this???

— Josh Collins (@joshcollins) November 7, 2016
still can't believe kylie jenner has been living a double life being an undercover popstar named Terror JR, Hannah montana who????

— احمد (@Whateverahmed) November 7, 2016
the kylie jenner/ terror jr situation is iconic

— nick (@tropicocunt) November 7, 2016
Anyone else find it ironic Kylie Jenner makes better music than Tyga? Wasn't expecting that... #terrorjr

— Bethany Davidson (@BVDavids) November 7, 2016
Kylie Jenner's half-sister Kim Kardashian infamously released her own single 'Jam (Turn It Up)' back in 2010.
Are you ready for Kylie Jenner's singing career?