Kylie Jenner Reveals The Real Meaning Behind Stormi Webster's Name
2 May 2018, 12:29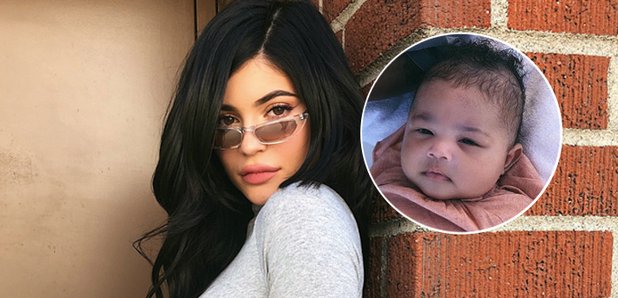 The 20-year-old opened up about her daughter, whom she shares with Travis Scott.
Kylie Jenner has explained why she named her daughter Stormi in her first magazine cover story since the baby's birth.
The cosmetics entrepreneur revealed how she and Stormi's father, rapper Travis Scott, came about naming their now-three-month-old baby girl.
"I really don't know how we thought of Storm," she told her older sister Kim Kardashian in a sit-down interview for the Evening Standard. "Her dad insisted it was him, but I feel like it was me."
"I didn't really like just Storm — I didn't feel like that was her name," she continued, "So then it became Stormi. And it just stuck."
"I feel like there were a lot of other names that I might have even liked better to be honest, but I feel like Stormi picked her own name, like it was just her name."
Kylie, the youngest of the Kardashian-Jenner clan, gave birth to little baby Webster - who takes her surname from her father - on 1st February following months of intense speculation.
The 20-year-old divulged that she "actually enjoys changing diapers", owing motherhood to becoming less self-absorbed.
"You're less selfish — and I actually enjoy changing diapers. It's really satisfying. To make her clean again. And I don't know, the whole thing is really…it's like such an amazing experience."
Elsewhere in the interview, Kim questions Kylie on her musical preferences, before revealing that her husband, Kanye West, has got something in store with Ky's 'Goosebumps' rapper boyfriend.
"I really love everything about it," said Kylie of Scott's music, "The way it makes you feel." You can read the full interview here.
In celebration of her beau's 26th birthday, Kylie rented out popular theme park Six Flags before whisking him away on a Caribbean holiday.