Fans Are Convinced Kylie Jenner Is Pregnant After 'Baby Bump' Photos Go Viral
28 December 2017, 10:23 | Updated: 28 December 2017, 10:27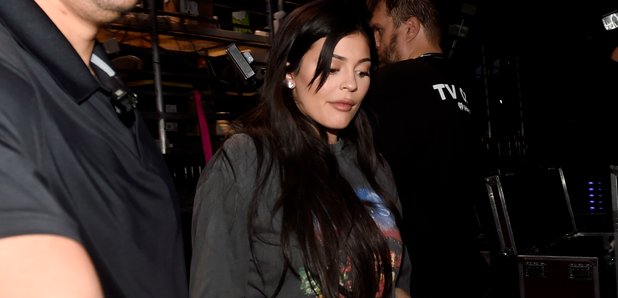 "Is she pregnant or is she not?"
People are convinced Kylie Jenner's pregnancy has finally been exposed after photos of her apparent baby bump have gone viral.
The 20-year-old, who still hasn't responded to growing rumours, was pictured at a surprise party for her best friend Jordyn Woods.
Although the party happened in September at Will and Jada Pinkett-Smith's home in Calabasas, fans are now pointing to a picture which appears to show Kylie Jenner with a 'baby bump' underneath an oversized jumper.
Check out the pictures of Kylie Jenner's 'baby bump' here.
Kylie Jenner is yet to respond to this latest set of rumours however fans think this is finally the pregnancy confirmation they have been waiting for.
I can finally rest now that I know Kylie Jenner is pregnant pic.twitter.com/e693ighYcL

— Marie (@marietalksalot) 27 December 2017
I didn't want these Kylie Jenner photos to come out. I wanted to revel in the mystery it was fun but I clicked the story. Now the fun is over. I don't blame her for not wanting to be out here pregnant on the internet though.

— Danie Jones-Wesley (@daniellejw) 28 December 2017
pEOPLE WE CAN FINALLY REST KYLIE JENNER IS REALLY PREGNANT

— anna (@_btssthetic) 28 December 2017
Honestly the work productivity scale has gone up and up since finally having confirmation Kylie Jenner is pregnant.

— Sheri-Ann Brandy (@brandysheri) 28 December 2017
Why is kylie jenner hiding her pregnant???? Whats the point?????

— (@LivDavison_) 28 December 2017
Oh shit Kylie Jenner really pregnant lol..

— Malik (@ricco_capo) 28 December 2017
Why is no one really talking ab these Kylie Jenner baby bump photos??????????? Are they real??? Is she pregnant or is she not????? Got DAMN I can't take this anymore

— Coleen (@coleenmbuckley) 27 December 2017
Well now I've seen pictures of Kylie Jenner's baby bump, I can finally stop being so invested in a celeb being pregnant lmfao

— Shelby (@ItsShelbyMariee) 27 December 2017
Despite being elusive in recent months, Kylie Jenner posed for a picture with her boyfriend Travis Scott at Kris Jenner's annual Christmas Eve party.
Kylie Jenner and Travis Scott on Christmas Eve pic.twitter.com/d2VEmxvbZY

— Rodeo (@RodeoTheAlbum) 27 December 2017
The pair are rumoured to be expecting their first baby together in early 2018.
Meanwhile, Kylie Jenner's half-sister Khloe Kardashian recently made her long-awaited pregnancy announcement.
The reality star, who had been as elusive as Kylie Jenner, broke the news on social media that she was expecting her first child with NBA player boyfriend Tristan Thompson.